War Chest: John Hawkins
Dink Flamingo
2019-04-17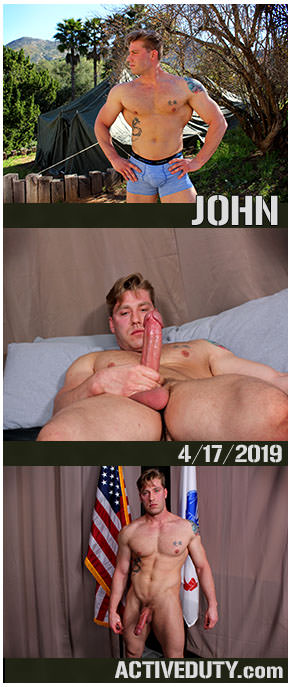 Hey Troops,
John is one tall sexy man standing at 6 feet 3 inches and weighing in at 250lbs of pure muscle and he's only 27 years old. John is ready to show off his fit body and his amazing wide shoulders.
John sits down on the edge of the bed
playing with is cock
and than casually walks off screen and returns fully naked with his
hung hard cock out ready to stroke
. He sits back down on the bed and makes himself comfortable and continues to feel his body and stroke every inch of his long hard dick. You can see how wide John's shoulders are and you realize all the time and effort he has put in at the gym. We hope to see this new recruit mixed up with some elite soldiers ASAP.
Once we see just how tall this sexy man is he goes back to the bed and relaxes. He spreads his legs wide showing us his hairy ass as he continues to stroke his dick and with two hands. The speed has picked up and both hands are sliding up and down his hard shaft.
John knows his balls are ready to explode and with a few more strokes of his hard cock he shoots his warm load all over himself.