War Chest: Johnny Stacks
Dink Flamingo
2019-05-22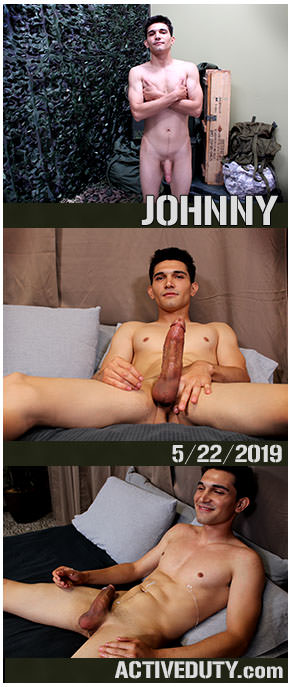 Hey Troops,
There is never a dull moment here at the AD facility where we find the best of the best and today is one of those days. Johnny is 25 years of age standing at 5 feet 10 inches and weighing in at a light 145lbs but don't let that fool you. Johnny is an avid Poker player and he has the game face to win it all. Kick back and watch him at his best.
Our fresh new recruit is ready to kick things off and he's excited to show off the goods. He slowly takes his clothes off revealing his smooth slim body and at first his limp cock. He lubes up for battle and begins
stroking that dick
and as it awakens to the slide of his hand we get to see just how thick and hard it really is.
He takes his time showing off all that he as to offer. He makes slight moans as he builds up to his climax. Johnny goes from standing to laying down on the bed so we can see his sexy body and his cock. If he is willing to push the limits maybe we will see
that tight little ass of his get bent over.
Johnny moves into his finale position which is on the bed and he grabs his big thick throbbing cock with both hands and slowly strokes his load out all over himself. His thick warm cum looks amazing as it rests on his cock and chest.