War Chest: Tyler Layton
Dink Flamingo
2019-07-24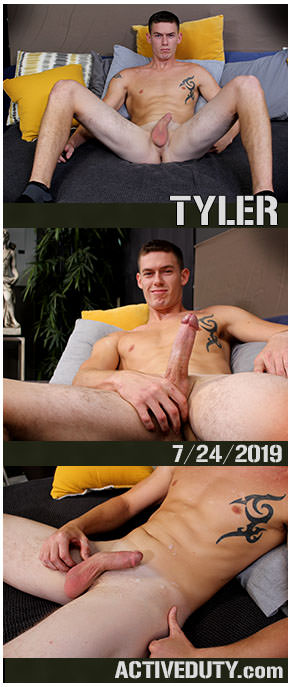 Hey Troops,
Today we have Tyler who is 25 standing a tall 6 feet 3 inches and he loves to play music and hopefully starting a band with some of his buddies.
Tyler is one tall man and he is ready to explore his body with us and show off his goods. He takes his time stroking his cock and rubbing his slim tall body. His big hard cock looks perfect as
his balls bounce back and forth
with every pull of that hard shaft.
Tyler isn't scared of being naked and he is glad to be here
showing off his throbbing dick
. He lies down showing his very long hairy legs and his smooth ass. The precum oozes out the tip of his dick as he grips his cock firmly.
His balls are building up as his hands easily slide up and down his sexy shaft.
His moans are becoming louder and louder
and soon his dick will explode with gobs of warm cum. He calls out to Claude and he moves in just in time to catch the blast of cum shooting up and out of his throbbing shaft.