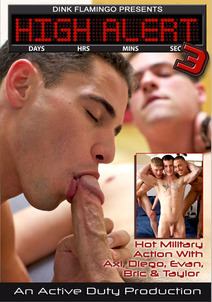 High Alert 3
Updated on : 03-18-2012
:

Featuring : Axl, Bric, Diego, Evan, Taylor
Categories : Anal Sex, Big Dick, Blonde, Blowjob, Brunette, Duo, Gay, Jerk Off, Kissing, Muscular
'High Alert 3' boasts three sizzling scenes -- one with Axl, Diego and Evan, another with Bric and Taylor, and then finally, Axl's debut solo. It goes without saying, if you like Axl, then you'll like this DVD.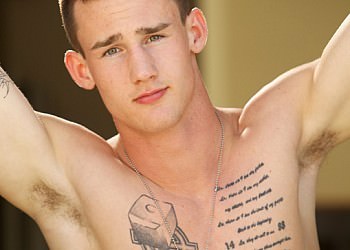 Axl
Updated on : 01-18-2012

|
Axl stands a whopping 6' 3' tall and weighs 185 lbs, he wrestled undefeated in high school, played a little bit of football but was more serious and interested in wrestling. He enjoys kayaking and hanging out with his German shepherd. When I ask Axl how he feels about sex with men he's quick to say that even though it's new, it's exciting and seems less complicated than the relationships he's had with women. When I joke with him about being all smiles during a three way shoot the night before and wondering if he was having fun or just acting, he's quick to point out that he was definitely having fun. During that shoot we joked that he could probably suck his own dick and when he tried he was actually able to touch his tongue to the head. He was so excited that he tried it again during this solo but wasn't limber enough. But it was sure fun watching him try.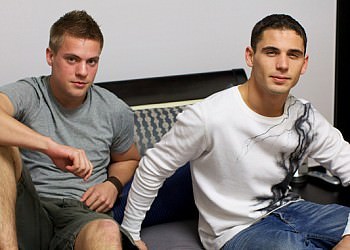 Bric & Taylor
Updated on : 03-11-2012

|
The last time we saw Bric and Taylor together it was a milestone moment for Bric here at Active Duty. It was during that scene that we learned Bric had done a little experimenting off camera and tried a few things out before bringing what he learned to camera. Taylor was Bric's first duo on video where he gave as good as he got. It was also the first time we saw Bric suck another guy's cock and it was fantastic. These two were really awesome together.

Then, they went their separate ways and Bric ended up going all the way across the line while Taylor did, too. But, as many who have since written in have pointed out, they never got a chance to really go all the way together. Today, that all changes as these two hotties come back together for what proves to be a shining moment for both.

Things kick off with us all shooting the shit and Bric and Taylor are both looking mighty delicious. We recap their history together and cover the parts that we missed in their last pairing. I tell them that I'm working for them and ask if they have some ideas brewing of their own. I joke that I don't know who looks more afraid and Taylor points out, 'well, there are two big dicks in the house.' I can't argue with that. So, I leave them be and go preheat the oven for some pies.

While I'm gone they strip each other out of their shirts as they admire one another's bodies. Taylor's cock is the first one out as they kiss and lick on each others upper bodies while Bric moves his hand slowly down to Taylor's cock, tugging on it as he kisses Taylor's nipples and neck. Taylor gets Bric's boxers off and takes off his own shorts and it's back for some hot tongue tying kisses and cock tugging as the action gets started.

Bric is the first to go down on Taylor's delicious dick as he strokes his own. Taylor caresses Bric's head slowly and appreciatively while Bric works his magic on his stick. It doesn't take long before Taylor is standing at full mast and Bric's hot mouth is all over it. Meanwhile Taylor reaches down to play with Bric's hard cock, returning the love and then leaning back to fuck Bric's mouth for a spell while Bric jerks his own hard meat.

They switch it up and Taylor takes the reigns on Bric's uncut meat, working his tongue and throat in unison to satisfy his partner. Bric is loving it as he throws his head back and moans. They've recreated things to the point where they last left off and both of them are doing a better job this time around. Bric kisses Taylor's back lovingly as Taylor services him. They go back and forth a bit recalling their last time together.

Bric suggests they consummate things a little more as Taylor turns on his side with his ass facing Bric's hard dick. Bric moves in and slowly starts shoving his cock up Taylor's ass, working it slowly as Taylor begins to moan deeper and deeper as Bric works his big dick into him deeper and deeper. Taylor pulls his leg up close to his chest to give Bric better access and Bric keeps the pace.

They change positions and Taylor gets on his hands and knees as Bric rams his huge cock in and out of his tight hole, fucking him with long strokes as Taylor moans away. This is so hot to watch as it's been a long time coming for both. By now, Taylor is stroking his own hard cock as Bric pounds him harder, faster, deeper. Taylor is telling Bric to fuck his ass harder and Bric obliges. The looks on Taylor's face are priceless and you can tell it's a hurt he's loving.

But things just wouldn't be complete unless the tables were turned and Bric took Taylor's juicy fat cock up his tight ass, too. So, Bric tells Taylor he wants him to fuck him now and Taylor says it would be his pleasure. They put Bric in the same side position that Taylor started in and Taylor goes hard from the start, stuffing and pounding his big, fat cock deep inside Bric's beautiful ass. All the while Bric is stroking his hard dick as Taylor pounds him deep. I'm not sure I've ever seen Taylor fuck someone so hard.

What happens next is so intense for both Bric and Taylor. Words really can't do the moment justice, you'll just have to see it for yourself. Let's just say that things are now complete!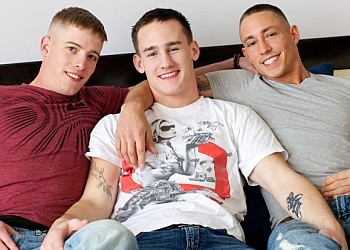 Axl, Diego & Evan
Updated on : 03-18-2012

|
When Diego and Evan were visiting we got these two together for another scene and this time it was with our latest heart throb, Axl. These three proved that just by switching up one person in the mix, it can give you a totally different hot time altogether.

As always the guys are all smiles. It's a beautiful day and we've got a bed full of beautiful men. I had rented a beach house for the weekend and the boys all stayed there together and bonded really well. We shot this scene on the last day of the trip and the time they spent as bunk mates at the beach house proved to just what the porn gods ordered.

I say I wanna make some smut and Diego says, 'I wanna fuck his butt' and Axl follows up with 'I wanna get sucked.' From there the clothes start slowly peeling off as Axl loses his pants and Evan loses his shirt while Diego follows Axl's lead and loses his pants, too. What the hell, they all decide to get right down to their boxers. From there, everyone grabs a handful of cock and Evan starts licking and sucking on Axl's nipple. Axl goes straight for Diego's dick and it doesn't take long for Evan to get down between Axl's legs and start sucking his cock.

Less than five minutes in and we've got a suck fest going on right before our eyes. Axl comments on how he's liking what he's got his hand and mouth on and Evan works his dick up while he sucks on Axl. Evan and Axl decide to kiss and have a tongue fight while Diego goes down on Axl.

Evan loses his boxers to reveal his rock hard cock and goes back for some more of Axl's dick. Diego finds his way over to Evan's cock and this is one very merry go round. Everyone's getting a taste of the other and no one is getting left out. Diego plays with Axl's balls while Evan works his cock and Axl just lays back all smiles as he watches Diego work his magic on Evan's meat.

Axl says all this attention is making him so fucking horny and you can tell by the way he can't keep his hands or his mouth to himself. He finally finds his way back down to Diego's cock and licks and kisses Diego's inner thigh while he and Evan share Diego's cock. Axl figures out he can go back and forth between the two just fine so he's having himself a feast.

Evan spots Axl's incredible bubble butt grinding on the bed and starts rubbing it. I suggest he come back and get a closer look. Once he see's Axl's cock hard and resting between his thighs he wastes no time getting in closer and taking it for a taste test as he strokes himself. He's working Axl's balls and cock and then works his way right up to that beautiful pink pucker that's just waiting for some oral examination. All the while Axl is loving on Diego's fuck stick like it's a popsicle that's his favorite flavor.

Once Evan finds his way up the Axl's backside and discovers that perfect pink hole he buries his tongue in and gets a deep taste. Axl is stroking his cock while Evan eats his ass and Diego is enjoying the view. It doesn't take long for that beautiful pink hole to entice Evan to explore even further. He goes in for a deeper exploration as Axl moans in pleasure all over Diego's dick. Evan is slowly shoving his cock in and out of Axl's ass as we watch it all unfold.

They put Axl on his side and Evan goes back in and Diego and Axl form a sideways sixty-nine. Axl is licking and sucking Diego's cock while Evan pounds his ass and Diego sucks his dick. Eventually Axl takes matters into his own hand as he strokes himself and watches Evan's dick go in and out of his tight ass. He turns his attention back to Diego's cock as Diego does the same to his. Evan is slowly plundering Axl's treasure and they move him to his back where he blows the first of two loads in this scene.