DVDs
>
Military Bareback Files 5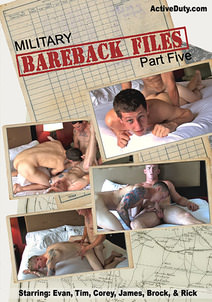 Military Bareback Files 5
Updated on : 08-17-2014
:

Featuring : Brock MB, Corey, Evan, James, Rick II, Tim II
Categories : 69, Anal Sex, Bareback, Big Dick, Blonde, Blowjob, Brunette, Duo, First Time, Gay
Military Bareback Files 5 features two hot bareback fucking scenes, including a three-way where Brock bottoms for the first time (for huge-dicked Rick). Plus, we there's also a combo with Evan and Tim (a bareback flip-flop), an oral scene with Corey and James, and another duo with Rick and Tim. Check it out!