Aaron II
Dink Flamingo
2014-06-18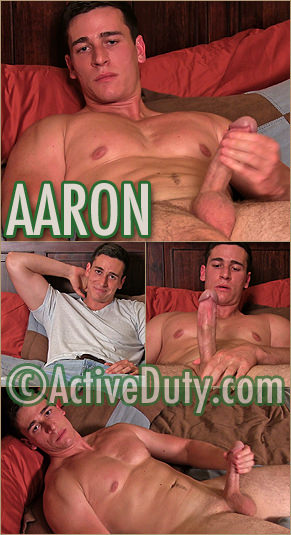 Hey Troops,
Director Kaden is super stoked to bring you our latest new recruit, Aaron, who is a strapping fella. He's built, tall, has a big ol' dick and a good disposition.
As the scene opens, Kaden talks about how he and Aaron had been trying to coordinate their first meeting, but schedules kept getting in the way. Lucky for us, they finally made it work, and now Aaron is in front of the camera.
Aaron stands at a mighty 6'3" tall, and he enjoys hiking, hanging out with friends, seeing movies and pretty much anything outdoors. He's from Florida, so he loves the beach too.
Kaden asks about Aaron's sex life, and he says he's currently "exploring the single life," after having had a number of girlfriends in the past. He says he jerks off three or four times a day. Kaden exclaims, "You're still young and full of cum!" lol.
Alrighty, so go on and check out Aaron's first scene with us, and we'll be back here on Sunday!
Dink