Adam & Marty
Dink Flamingo
2015-02-22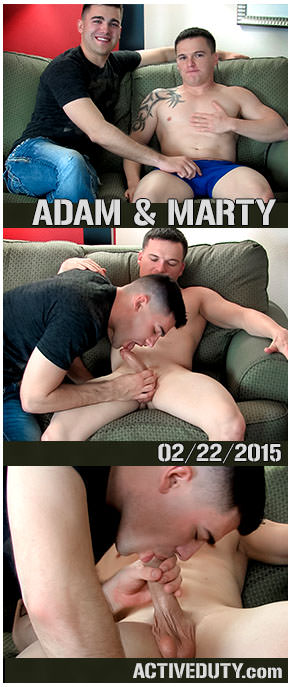 Hey Troops,
Have I said thank you lately to all of y'all out there for your continuing support? I sure's hell hope I have, my mama didn't raise a boy with no manners. But you know how it is. Sometimes we forget to stay grateful for all those hardworking people who make our lives better. Our boys in uniform, for instance. And, in this case, our boys out of uniform!
But we here at Active Duty always try to show our appreciation. So Mike took it on himself to arrange a little surprise for one of his most dedicated recruits, our very own Marty. Marty's been back quite a few times to film with Mike the past couple of years, and he's been quite the trooper. Kid deserves a commendation! Unfortunately we don't give out commendation medals here at Active Duty, so he'll have to settle for something more in our wheelhouse.
Mike sits Marty down on the couch and explains that he's got a special treat lined up for him for being such an active part of our Active Duty roster. But all good things come to those who wait, and Marty's gonna have to wait until he's stripped down to his undies and given us an eyeful of that tightly toned body of his. Once Marty's obliged, Mike throws him a bone -- or a boner, that is.
Sweet and sensitive cock-sucker extraordinaire Adam is Marty's gift, but it's Marty who gets unwrapped, as Adam pulls down Marty's pants and goes to town on Marty's waiting wang. Marty grips Adam's hair and gently guides Adam up and down the shaft, slowing the pace to just how he likes it. "Just like that," Marty moans more than once, which must have made Mike happy to hear. After all, a good gift is its own reward!
I'm working on my own little thank you to all you faithful fellas out there, but I can't say much more about it until it's finished. Wouldn't wanna spoil the surprise, now would I? I'll try not to make ya wait too long, but after all, the anticipation is half the fun!