Ben
Dink Flamingo
2014-09-24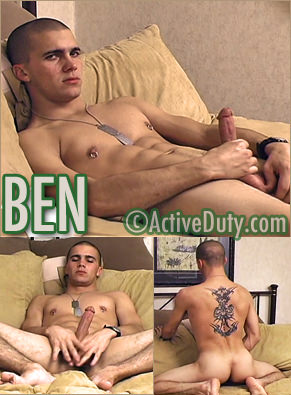 Hey Troops,
We're back with another dip into the War Chest archives, as we re-introduce you to Ben! He's been absent from the site for years, so I'm glad to have him restored to Active Duty.
I couldn't believe my luck when I met this guy at a local convenience store. He was ready to come back to my place, drop his drawers and get to jerkin. Here's what I said about his scene back when it first premiered:
"Another small package of dynamite here. Ben is 5'6", 140 lbs. and cut and toned very nicely. This hot Army boy is more than happy to show off his goods and what a good job he does of it. I met Ben at a convenience store just down from the house and he was willing to follow me back to the house that very minute and do the deed. Talk about ambition. We hadn't known each other twenty minutes before I'm looking at this soldier in all his naked glory. Ben is surprisingly at ease as he slowly strips and shows off his stuff. I personally like 'em when they're small and Ben is just my type. What a find."
Enjoy taking a gander at Ben, and I'll see you back here on Sunday for a new scene!
Dink