Bo & Lance
Dink Flamingo
2015-05-24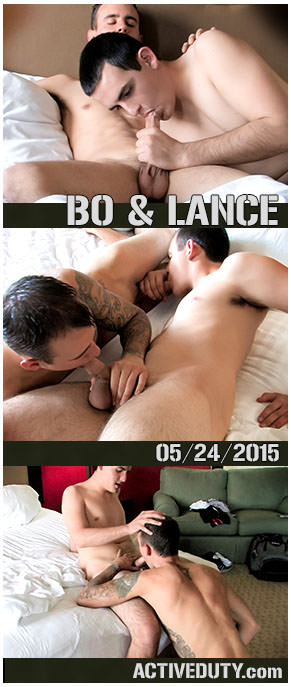 Hey Troops,
You remember
I said that Bo was the first
of Mike's new batch of ready and rowdy recruits? Well, you're about to meet the second, a smooth and slender soldier by the name of
Lance
.
Bo
and
Lance
both get thrown in the deep end today -- it's the first time doing a duo scene for both of them, and it's sink or swim -- well,
sink or suck
in this case.
Lance is looking the more nervous of the two, and he's still sportin' a softie when they pull the covers down, but Bo's got a big ol' boner himself, maybe because he had
that warm-up solo
to have some extra time getting used to being bare-ass on camera. Early to rise, that's my motto! Well, the early bird gets the worm, so Bo gets rewarded with a nice sloppy bj from Lance, who maybe is a bit shy for the camera but he's definitely
not shy around a hard-on
. He moans as he slurps down Bo's juicy pre-cum, and he's sticking his butt straight up so Mike can't resist getting a close-up of the full moon.
Lance is definitely a bit more warmed up after all that, so when the boys start to
chow down on each other's cocks in a 69
, he's got a lot more girth for Bo to play with than he started the scene with. Bo grips the base of the shaft with his hand while he runs his mouth along Lance's sweet D, and meanwhile Lance keeps sucking away beside him.