Brad II - Solo
Dink Flamingo
2013-12-04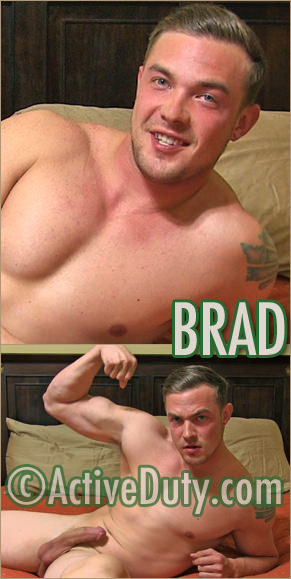 Hey Troops,
Another new update, another new recruit for y'all!
Tonight director Kaden brings you Brad, who has never done anything like this before. Oh, I love me a newbie.
Brad is a built dude, who weighs in a 205 lbs. and stands 6'1" tall. He works out every day for at least a couple hours -- and it shows. Wait until you see his body. Dang. He's a beauty, and has got the face of movie star.
As far as hobbies go, the gym seems to take up most of his time, but he also likes working on cars, heading out on his boat and spending time out doors. He sounds like a real man's man, if you know what I mean. He's a big fisher and hunter too. He's a bit rough and tumble, but he's just as handsome as can be.
Kaden steps away from the camera to let Brad do his own thing for a bit. Brad watches Kaden walk out the door, and only after he's left, does he slip off his shirt. Brad's watching some off-camera porn (that we can't hear), but is attentive to the camera that's trained on him.
Without even trying at one point, one of his pec muscles starts to pop and dance. Well, isn't that something? Brad makes sure to stay focused on the camera, gazing at us while we gaze at him. He's got these sexy eyes that just make you wanna stare right back.
Something really interesting happens near the end of the video, where Kaden applies some lube to Brad's dick ... at his suggestion. I won't tell you exactly how it happens, but it took me by surprise (mostly by what was said). Yeah, I'm not spilling the details, you have to watch!
By the time we're through, I have the feeling Brad might come back for round two...
See you on Sunday!
Dink