Brian - Solo
Dink Flamingo
2013-09-04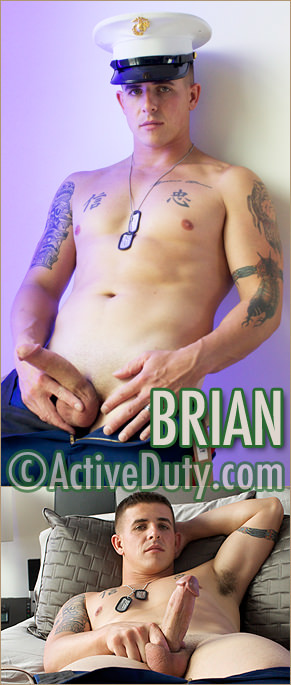 Hey Troops,
We take a trip down memory lane again tonight, as we unveil a never before seen scene with Brian.
The model-handsome Brian came to us a number of years ago thanks to our photographer pal -- and admirer of military men -- Major Wood. Soon after Brian joined our little party, he was paired up with Kaden for his first hard core scene with us. Lucky Kaden was the one who got to pop Brian's cherry, and Brian was totally down for it. Granted, maybe he knew what was coming -- Brian had his turn at Kaden's ass afterwards. lol.
Brian went on to be featured in a number of scenes with us, including our wildly popular Summer Recruits movie that I have so many fond memories of. (Really, you must check out the film and all of its scenes -- streaming on the site, of course, or available to purchase as a DVD if you'd like. It was such a blast to make -- and all of those guys really were just heavenly. Brian, Kaden, Conrad, David, DJ, Cash, Domenic! It was a motley crew of men, I tell you.)
One of Brian's most heated scenes was likely his threeway with Shawn and Chaz. Their scene was just non-stop action with more twists, turns and positions than you can shake a dick at.
So go check out Brian's previously unreleased scene tonight -- as well as his glorious gallery of drop-dead beautiful photos, and we'll see you back here on Sunday.
Dink