Brock, Bryce & Nick
Dink Flamingo
2012-03-21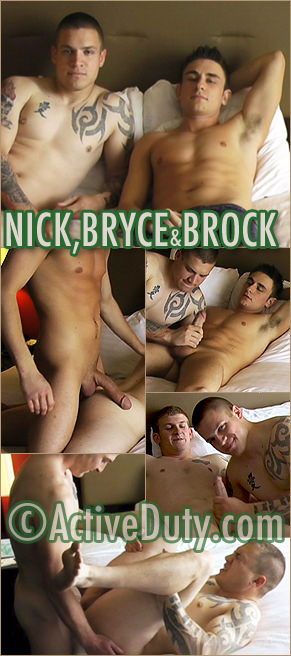 Hey Troops,
Tonight we're back with a double-header for you in the War Chest with the finale of the Covert Missions scenes that my buddy Mike sent over to us. Things all started out with these first two scenes as Mike arrived at a hotel right outside base so Nick would close for action. Bryce and Brock are both out of the Army now but Nick still has to report for duty and this particular Friday that kicked off their weekend together started with Bryce and Nick. Mike was able to get Nick to stop by for a mid-day quickie while still in his work uniform. They didn't have much time but Bryce and Nick were able to accomplish quite a bit in the less than half hour they had.
As I said last week, Nick has been away from the game for awhile while he was deployed and you can tell he's anxious to get back to business. It's a little awkward for him at first I think but he starts out all smiles and ready for fun. They give each other some head and then Bryce proceeds to fuck him pretty good. It turns out to be a hurt that feels so good and breaks Nick back in for things. They go at it raw and Bryce ends up fucking the shit out of Nick.
The next day Nick stops by again and meets the same fate with Brock who is at Mike's hotel room waiting for some action. I guess Mike (or Nick) decided that this was going to be the weekend to get Nick's ass torn apart. Brock does a repeat from the Friday mid-day sexcapade and give it to Nick raw once more.
Be sure to check out these two scenes from our Covert Missions series and see how awkward can also be kinda sexy.
See ya Sunday for some exciting news.
Dink