Cade 2
Dink Flamingo
2014-03-19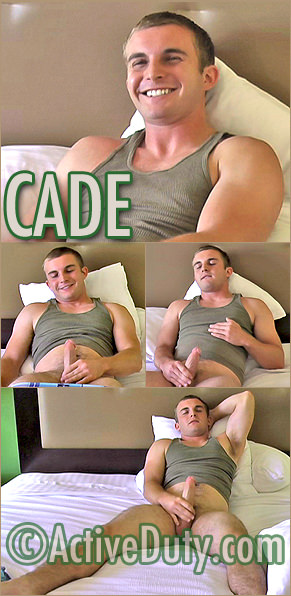 Hey Troops,
I want to remind you about a really great deal we have going on right now. For a limited time, enjoy free access to Amateur Straight Guys when you join Active Duty! Current and new members of Active Duty will enjoy unlimited access to ASG (normally $19.95 per month), and ASG's 550+ exclusive downloadable scenes!
Of course, Active Duty members will still enjoy twice weekly updates plus over 800 exclusive downloadable scenes, free access to Dirty Bird Pictures, thousands of photos, discounts on DVDs, and 68 different streaming DVDs from other studios each month! If you love watching hot straight amateurs have their first gay experiences, you won't want to miss this deal! Join now to get the most out of this promotion, which will offer free access to Amateur Straight Guys to all Active Duty members from March 16th through April 15th.
Now, in tonight's War Chest Update, we have a true War Chest find -- in the spirit of what the War Chest is all about.
See, the intention of the War Chest was for me to dig up scenes from the bottom of my so-called War Chest to share with you. Scenes that I had temporarily forgotten about. Well, that is certainly the case tonight, with this solo scene that our pal Mike shot with 19-year old Cade.
The scene opens with Cade already furiously jerking his dick, with Mike asking Cade how he thought his first scene went. (This is Cade's second solo for us -- he shot an earlier one that we have posted inside the site.)
Cade says "It was pretty fun. Something new. Never done that before." Mike says he's glad that Cade is back, and that he's "looking good." Mike lets Cade be, and tells him to holler if he needs anything. Cade says that he thinks he's gonna be good, and Mike steps away.
Cade moans and groans in a sexy deep voice, saying how good it feels to jerk his dick. Cade's a hot little number in his green wife beater and olive skin.
In a funny exchange at the end, Mike jokes that he's amazed that Cade was able to shoot a load, considering he had already blown three loads earlier that day (thanks to his eager girlfriend).
Enjoy this from-the-vaults scene with Cade, and we'll see you back here on Sunday for a brand new scene!
Dink