Cade
Dink Flamingo
2013-04-17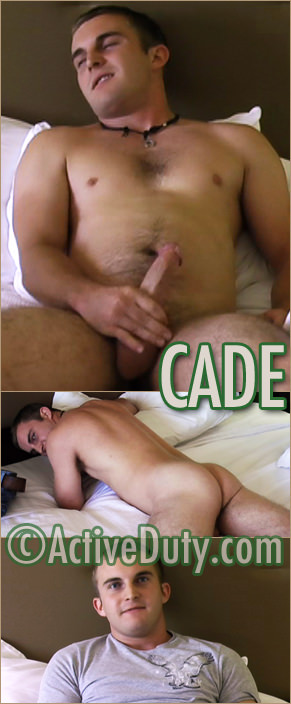 Hey Troops,
Meet our latest War Chest find: Cade! The 19-year old stands 5'8" tall and weighs in at 152 lbs. He's from Kentucky and has the cutest darn smile you've ever seen.
Our guest director pal Mike asks if Cade needs a drink or anything, and he says he's alright. Do any of Mike's men ever want a drink? I think we should get Mike set up with a nice cocktail bar so he can start serving a mixed drink or two to these fellas.
Cade's a cute little guy with olive skin and a pretty big dick. He's' got just a dash of fur in all the right places. We can tell he's watching something on a computer or phone next to him, but we can't see what he's watching, as it's obscured by a pillow. Hey Mike, what was Cade watching that got him hard? We wanna see too!
Whatever he's watching, it's got him stiff as a board. Soon, Cade peels off his shirt, revealing his nice chest. Cade looks like a guy you'd see just out and about -- one of those guy-next-door types. Mike asks Cade how big his cock is, and he says it's about 7" . . . and I'm apt to believe him too.
By the end of the video, Cade jokes with Mike about how he might come back somebody, "if you watch it." I guess he means us, watching him . . . right now? Well, you got a deal Cade!
See you back here on Sunday!
Dink