Cameron - Solo (Rock Hard Regiment 2)
Dink Flamingo
2014-10-08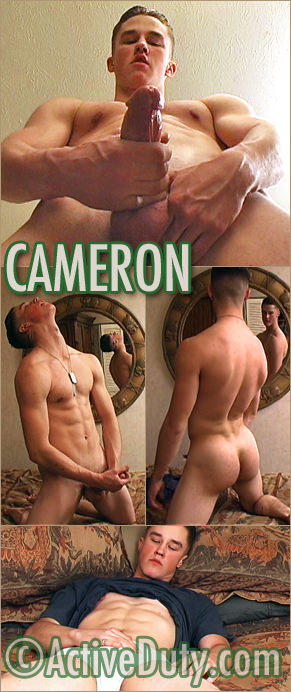 Hey Troops,
Now here is a major find from deep within the War Chest! It's Cameron!
Some of you long-timers may remember Cameron quite fondly from back in the day. He was in a couple scenes for us, and boy, was he something special. Tall, muscular, great personality, big ol' honkin' dick ... He's everything you want in a guy!
The scene I've unearthed today has -- I don't think -- ever been available as a streaming download scene on the site. (I'm sure one of you will correct me if I'm wrong -- lol.) It's Cameron's solo scene from our old VHS (!) and DVD release "Rock Hard Regiment 2," which is currently out of print.
Here's part of what I wrote about Cameron way back when, describing what happens in this scene:
"What a hot find this guy is. ... Cameron is tall, lean with a nice fat cock and just perfect in my opinion. He's very easy to work with and has no problem showing off his hot package for the camera. If everyone were as easy to work with as this guy, I'd be in heaven. Talk about workin' the crowd? Someone give me a fan. I'm burnin' up."
If you enjoy Cameron in his solo, make sure to check out his action scenes! It only gets hotter, let me tell you what...
We'll see you back here on Sunday!
Dink