Conner - Solo
Dink Flamingo
2013-07-03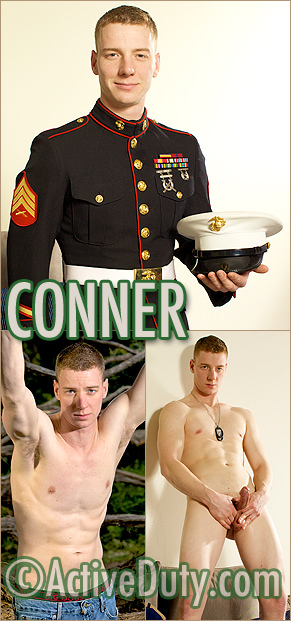 Hey Troops,
We continue our special series of previously unreleased solo videos tonight with a really sensual scene with the strapping Conner.
He's such a dreamboat, isn't he? Tall, muscled in the right places, a cute smile . . . a big dick. (Yeah, that last one always gets me every time. lol.)
As we mentioned last week, we've been stockpiling a number of solo videos that we shot of some of our favorite -- and most beloved -- models. But, these are shot differently than normal. We've added some music and filmed them in a slightly different style than what you might be used to.
What's also special about these videos is how we have a glorious set of high-quality photographs that we shot exclusively for this scene. They aren't your standard "snap pics of a guy on a bed" sort of deal. Rather, they are pro shots lensed outdoors and in different locations (even with clothes on! lol).
I'm particularly fond of any photos with our men in uniform -- and we're giving you a couple of those tonight in Conner's gallery.
Make sure you watch this special solo all the way to the end, when Conner shoots a surprise -- straight into his mouth. :)
See you back here on Sunday!
Dink