Conner
Dink Flamingo
2012-02-15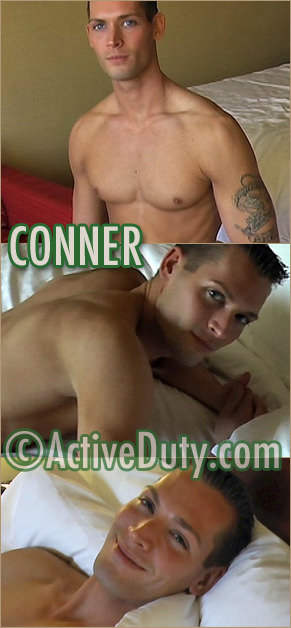 Hey Troops,
We're back tonight with a brand new hottie for you in the War Chest Update . My buddy Mike from Covert Missions sent over a really hot blue-eyed, handsome fellow from Texas. Conner is a SSGT in the Army, he's 25 and he's just plain handsome . Those blue eyes stole my heart as soon as I pressed play and they flashed across the screen. He also has a very nice smile with near perfect teeth. You'll be just as anxious as I was for him to peel off that shirt so you can see the matching body. Conner says he's been hit on by guys many times and he really digs the attention. Well, I'd sure give him all the attention he wanted.
Mike gives him a quick rundown on how things should go and then leaves Conner to his own devices for a bit. He strips down pretty fast to reveal a nice, smooth body and some really rocking abs. He lays back on the bed and starts playing with his cock, working it up. Mike zooms in to capture more of that beautiful face. I could look at Conner all day. He's like a dream. I can imagine the dirty thoughts spinning around in his head and it makes me wish I was there to bring them to light. He gets down on his knees on the floor and really starts getting in to the video he's watching. He's got a unique way of stroking his cock that seems to work for him.
Mike puts him through the paces and ends up getting some great ass shots out of Conner. That hole is perfect and sweet and you'll wanna dive right in. Once the ass shot is over, he's really hard and stroking fast. Doesn't take long for him to shoot his nice load all over his rock hard abs. This guy has Hollywood good looks and I hope Mike brings him back for more. In the meantime, enjoy this debut.
See you on Sunday!
Dink