Cooper - Solo
Dink Flamingo
2014-01-01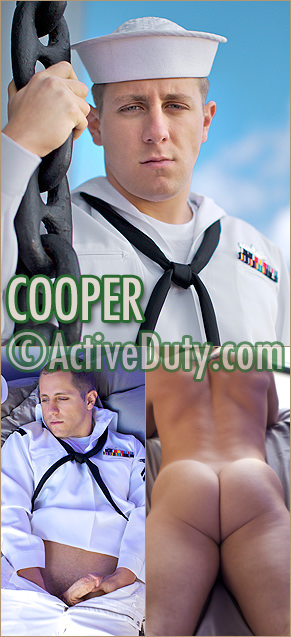 Hey Troops,
Happy New Year!
Hope your 2014 has gotten off to a great start and you're ready for the new year! All of us here at Active Duty wish you nothing but the best for the coming year. As always, I continue to be grateful that you've chosen to visit the site, and, I'm especially grateful to our valued members -- many of which have been with us through a number of new years.
In tonight's War Chest Update we're revisiting a striking man that we haven't seen in a long while -- Cooper!
This is a solo that we simply never posted, but have had stashed away in the war chest. Well, today's the day -- and doesn't Cooper look marvelous in his uniform? Such a sexy man, with a bodacious butt and the prettiest skin.
I especially love the gallery of images we shot of Cooper as well. So, so pretty! Get on in there and check out both his solo video and his gallery.
Now, Cooper only did a couple scenes with us, but he made 'em count. He did three scenes, including a three-way with Kaden and dreamboat Payne. And lucky Cooper took both guys up his ass. (If you haven't seen that scene yet, you better check it out.)
We're also in the final stretch of our holiday DVD sales. Through Jan. 5, every single title is on sale, and members actually save MORE money. For members, all DVDs are priced at $17.47, while for non-members, they are $19.97.
See you on Sunday!
Dink