Cruz, Jaxon & Niko
Dink Flamingo
2014-12-14
0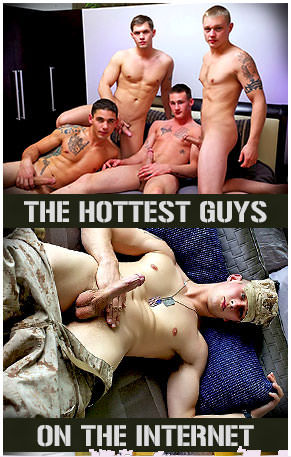 Hey Troops,
I hope you're all getting ready for Santa with just the right amount of naughty mixed in with nice to put yourself in a great position to receive the perfect gift. I always prefer the naughty over the nice and I'm sure you do too. In fact, I'll take the ho, ho, ho in Santa's bag anytime over that sweet little angel on top of the tree. I like to think of myself as one of Santa's elves at Christmastime only it's my job to help you find all the naughtiness that Christmas has to offer. Santa's assignment for me this year is to give you those special little gifts to enjoy all to yourself (or with a naughty friend) in between all the hustle and bustle of fighting long lines to get those special gifts for everyone on your list.
Tonight we've got a really hot way for you to unwind after a long weekend spent doing for others. And, there's
a hot fantasy
all wrapped up in our gift and three hot studs to help your imagination along the way just in case your brain is still working overtime to remember everything you forgot on your journey through winter wonderland. So, kick back, slip out of something comfortable and get even more comfortable as you watch this fantasy driven (by yours truly) three way unfold.
I know I'm not the only guy that ever gazed at the hot studs around me in the locker room and conjured up a good time in my head with a couple of them. And, I bet you it wasn't just we gay or bi guys that had these images dancing in our heads. The curious (but straight of course) boys were bound to have caught their minds wandering around their buddies asses or their eyes fixed on his package as he stood there in front of them with his bulge protruding through his singlet and a small wet spot at the tip of his cock that surely wasn't just sweat. It was these guys that I always found myself trying to imagine what they were imagining. And while I'm sure my fantasy may have been a little more detailed, I often wondered just how different our secret fantasies really were. After wall, it's while we are alone in our minds with our own dirty thoughts that we can be just as dirty as we want to be no matter how straight we say we are, right? Mmmhmm.
For some reason Jaxon--that hot little newbie we've been watching get more and more comfortable with his male counterparts here at Active Duty for the last month or so represents just the type of guy I'm talking about. Yeah, he may have had a girlfriend on his arm at the bonfire party but his best bud is who was left to spend the night after he dropped his girlfriend off to keep her parents from sending out the search team on a Friday night after the game and bonfire had ended. So, my fantasy always involved what guys like Jaxon might be up for trying after the girlfriend was safe in her room writing all about the night to "Dear Diary" and he and his teammate (who just happened to be staying the night at his house that night) were back at his place with a few of dads beers stolen from the fridge and shuffled off to the bedroom where Jaxon no doubt had a big stash of porn and well you know the rest.
Before we get started I set the stage, laying out my idea for the fantasy as the guys listen intently to make sure they are getting this down just right. This is a long scene, troops, almost an hour so there's plenty of set-up before the action and even more action once it gets started. So stay with me in the beginning so we can see just how well the guys "got it" when it came to my pep talk beforehand.
During the "pep rally" I call Cruz out on a text message he'd sent me a few days before and we get some very interesting confessions out of Cruz as he opens up and tells us how doing the videos here at Active Duty has changed his outlook on things to some degree. I love getting inside the guys heads and hearing their thoughts on these things and I think you'll appreciate what Cruz has to say. But, enough of Dink's psychoanalysis---let's get on to the fantasy, right? OK, OK!
Well, not so fast. Before the fantasy begins I try to get inside Jaxon's head a little bit to give us some behind-the-scenes discussions that he and I have had as well. OK, now on to the fantasy, finally!! The camera fades and when we come back Niko and Cruz are in their singlet's after an apparent wrestling match and their about to hit the locker room shower. They give each other some handslappin' and congratulatory hugs as they mention the match they just fought. But the "bromance" quickly turns to kissng and ass-slapping and they start wondering where the "towel-boy" is. But while they're waiting they aren't wasting any of their alone time.
Soon enough Jaxon the "towel boy" comes in wearing his red, white and blue jockstrap and Niko and Cruz waste no time at all getting in some feels as they bring Jaxon between them and rub his body all over, playing with his ass. All the while he's wasting no time getting his hands full of their cocks through their skin tight singlet's. They pull their cocks out and teach him how to kiss a cock properly and he's an eager student, doing just as they demand.
It's not long before Niko pulls out a hard dick for him to get a real taste of and Cruz quickly notices that the towel boy is sporting some major wood himself. Cruz pulls Jaxon's cock out of his jockstrap and begins stroking it while Jaxon continues to explore his teammates. It doesn't take long for Cruz to go to town on Jaxon's hard throbbing cock while Jaxon enjoys the exploration that Niko is doing on his left side. This fantasy has gone from hot to steaming all in a matter of a few minutes and these three aren't wasting any time creating their perfect scenario.
They question how bad Jaxon wants to be "part of the team" and Jaxon makes it more than apparent that he's eager while he and Cruz share Niko's hard cock together with one sucking the shaft while the other licks the huge low hangers that he's flopped outside his singlet. And now it's Cruz's turn to get his meat worshipped and Jaxon has no problem giving it the attention it seeks.
As the room room steams up, they turn the shower on and although they're already good and "lathered" up, they get ready to get soapy in this adventure. Niko does something I find very hot and jumps under the water while still in his singlet, getting all nice and wet. Such a sexy site to behold. All the while he's rubbing his cock and watching his team players let a little more pre-shower last minute sucking in.
There's not a dick in this locker room that's not getting plenty of attention as we watch three separate fantasies meet somewhere in the middle to form one hot fucking three way. This shower is getting plenty of team use today as the boys cause more steam than the hot water. Cruz is chokin' on Jaxon's cock and shoving it down his throat while Jaxon does the same to Niko's and suddenly we realize that Niko has taken the directors chair as he instructs his teammates to make him even hornier. Niko gets Cruz to play with Jaxon's hot little asshole as they spread it apart and gives us all a really close-up look at that beautiful rosebud.
By the time this fantasy comes to a close they've all had their asses fucked good and their fantasies satisfied. And they agree that this will become a regular occurrence---"same time every week" as the fantasy closes out with a three way kiss. Lips locked tight like two wrestlers on the mat!
Lord, somebody give me a fan, it's hot up in here!
See you back here on Wednesday for a hot new recruit who has a few surprises for us that you're just gonna love.