Damon
Dink Flamingo
2013-03-13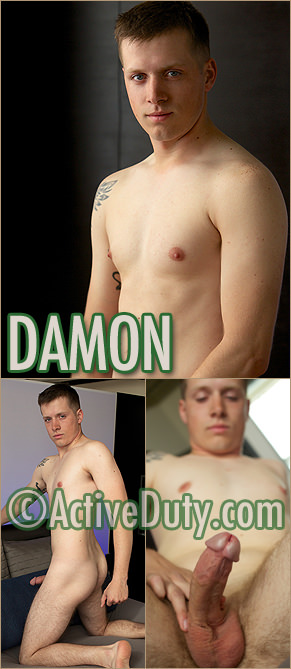 Hey Troops,
Meet our latest War Chest find, Damon, who is out here vacationing from back east. Major Wood found him out on the beach one day throwing the ball around with his pals, and now, he's -- wait for it -- playing with his balls for us! (Oh, the puns!)
The 21-year old is a fair-skinned fella, who stands 5'10" and weighs 150 lbs. He's got close-cropped hair and only a mere handful of tattoos on his body. That's a change from our normal crop of recruits, which seem to be quite into the art of ink.
He relays a perhaps scary sexual experience from back in high school, where he was with his girlfriend in the backseat of a car. After pulling over into a store's parking lot, they started going at it, but were swiftly caught off guard by a pair of blazing lights into their car's window. They froze, not sure what -- or who -- was outside. (They knew it wasn't a cop, since they didn't see blue lights, Damon says.) Well, after a little while, the lights went away, but Damon and his girl never knew where they came from. (My money is on a UFO. Ok, not really, but that would make for a spicier story, wouldn't it?)
Major Wood runs Damon through his paces, and ensures we get lots of angles in which to view Damon's body. Wait until you see him shoot his load! It flies all the way up into his armpit -- which Damon gets a good chuckle out of.
Go check out Damon, and I'll see you back here on Sunday!
Dink