Dan & Randy
Dink Flamingo
2015-04-12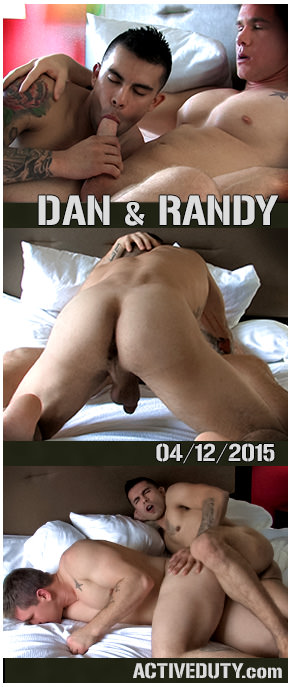 Hey Troops,
The two start off in their tees and undies, and they almost look like they dressed to match, with Dan's white and red boxer briefs complimenting Randy's shirt and Randy's grey boxer briefs going well with Randy's black top. Not to mention both of 'em have some pretty thick biceps bulging out of their sleeves. They're packed pretty tight in those clothes so it's only natural they'd want to
get them off as fast as possible
and really let loose.
Dan as the more experienced one takes charge, helping Randy out of his shirt and then getting his dick worked up with a firm handjob that's all business. But once Randy's thick cock is at attention, that's when Dan gets a bit more personal, giving him an intimate blowjob that might just be more for his own enjoyment than Randy's. You can tell he's really into it by the little bits of saliva that trail from his mouth as he
breaks for air between runs up and down the thick shaft
. And when Dan swings around the bed to get a better position for maximum suckage, we're even treated to a nice view of that ass of his we know and love.
Dan's servicing of that exceptional body and cock has gotten him really hot and horny, so he rolls Randy over on the bed and
sticks it deep to the larger guy's meaty buns
. As he thrusts back and forth, both men gasp and grunt quietly, and you can tell that with Randy being still pretty new to this (having just had his first bottoming experience a few weeks ago) he's still not quite used to getting his hole stretched out. Randy grips the bedsheets and grits his teeth as Dan goes at him from behind, but
Dan's really loving taking down a big guy like Randy
, and he's almost smirking as he thrusts into his big bottom's hole. Randy says he's getting better at handling a dick in his ass and even says he's "working on it" -- I wonder what that means! Hopefully I'll get to find out.