Dane - Solo
Dink Flamingo
2013-10-16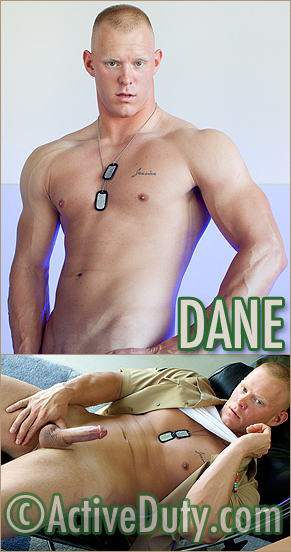 Hey Troops,
If we brought you Jack last Wednesday in the War Chest, then you just knew his partner-in-crime, Dane, couldn't have been far behind! Indeed, tonight in the War Chest, we have for you a previously unreleased scene with Dane.
Here's what we first said about Dane back when he first appeared on the site a while back:
"Check out this huge Marine, Dane. He's a strapping 6'4" and 230 pounds. Dane's a big farm boy from North Carolina but he's not missing the south. He's loving Southern California and all the hot sex he's been having out here. Dane says he's open to exploration and I've already tuned him into all the things we do here at Active Duty and he's down for whatever we throw his way. Dane works hard at the gym and he's all about showing it off."
Enjoy this special sensual solo with Dane.
See you back here on Sunday!
Dink