Devil Dawg Dick
Dink Flamingo
2012-02-08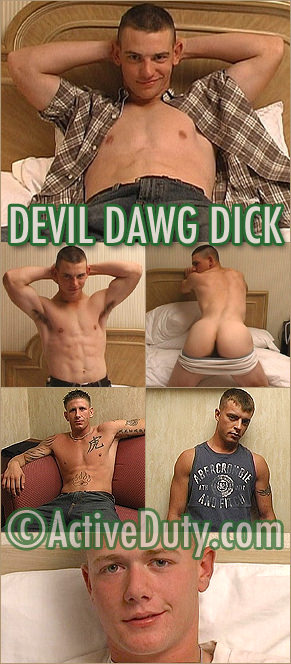 Hey Troops,
Great news everyone!
Once we moved over to our kickin' new site, we realized we had quite a bunch of stuff that had been, well, kind of "lost" to the wilds for years.
For example, tonight's update is dedicated to Devil Dawg Dick -- an old DVD release from a number of years ago that vaporized off our old site. (Really, you'd think we'd be a little bit more on top of this stuff, right? Ha!)
So, glory upon glories, we have restored the DVD's five scenes back to our site: Wes (drool -- he's the dreamy fella on the top of the splash image to your left), Hunter, Garret, mega-hung Christian and his buddy Bama. Enjoy them all tonight and marvel at how great the videos look -- now that we've been able to restore them to their original crisp and clear beauty.
Also, you can pick up Devil Dawg Dick on DVD now, too! So for those of you that enjoy collecting our videos on DVD, grab it up!
We shall see you on Sunday!
Dink