Devin & Lance
Dink Flamingo
2015-06-07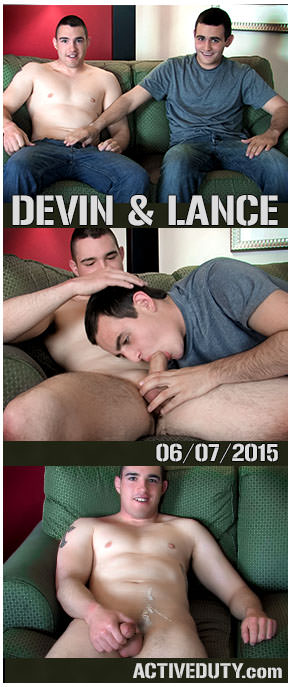 Hey Troops,
Devin's a trooper about the whole thing,
in fact he actually looks pretty excited about trying something new
-- he tells Mike he's not uncomfortable at all when Lance starts rubbing his crotch, and he's got his
trademark goofy smile
goin' practically the whole time! Devin's loving the attention Lance is giving him and Mike points out that Lance has come a long way in a short time -- if he keeps it up like this (no pun intended) he'll be a master cock handler in no time!
Some guys dive straight into the pool while others like to dip their toes in first, and Devin's still getting used to the whole idea of doing stuff with a guy, so we let him off easy this time and didn't ask him to do more today, but Devin tells us
"we'll see what the future holds"
. Hopefully Mike can convince him to take the next plunge pretty soon!