Diego
Dink Flamingo
2017-01-18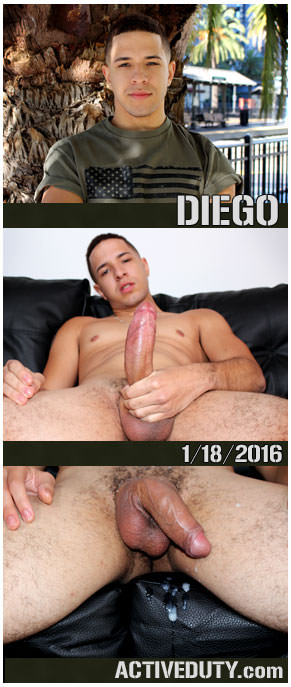 Hey Troops,
Meet
Diego
! He's a sexy young recruit who, so far, has done a little experimenting with other dudes, but comes to us hoping to jump into the line of fire and REALLY
get his cock wet
!
I certainly like Diego's attitude coming into our tight little group of soldiers. He seems eager to learn and willing to get his hands dirty where necessary. We see a very clear and present example of this during Diego's solo, but I'll get to that in a minute.
Diego took his time here, really
fattening up his cock
before revealing anything to us. I like this element of tease, but I also like that Diego didn't feel the need to rush. Right from the jump, he didn't get too much into his head. He relaxed and let the feeling of
sensuousness
come to him. Once he pulled off his shorts, we see he wore a pair of Army-green undies. I like Diego's style!
And once the underwear did come off, WOW!! Diego is packing some serious heat. His
enormous dick
is charged up and ready for action. Claude starts out low and tight as Diego gets things started, using both hands to
stroke his oily cock
up and down. Diego takes advantage of all the space he needs on the black leather couch, sprawling his legs out, exposing to a nice little
taste of his ass
.
Diego has certainly done this before! He knows his giant, stiff cock like...well, the back of his cock, and handles it like a life-long virtuoso handles his musical instrument. Diego wails on that boner like he's cranking out a smooth, bassy jazz number. Oh yessss. Claude goes over the top, positioning himself right on Diego's shoulder, showing us how that
big ol' anaconda
looks from Diego's perspective.
Then we have Diego standing up, really letting his
greased-up erection
stretch out. Claude gets the down-low from down low. Looking upward at that hulking cock, seeing Diego's face experience the ecstasy of the moment really makes me feel lucky to be part of such a special squad that attracts such phenomenal recruits like Diego. Look at those gorgeous nuts, tucked high and tight at the base of
Diego's impressive shaft
. Just incredible stuff.
Diego gets back on the couch to finish up, kicking his legs up this time to get ready to
spray his load
. But as he
jerks his hard meat
, we hear a knock at the door. Claude realizes it must be ol'
Ryan Jordan
, so he invites Ryan in and explains to Diego that he's about to meet a fellow recruit unexpectedly. Sure enough, Ryan is pleased as pie to meet Diego and can't help but comment on that mighty fine, mighty tempting
hard cock
! Long story short: Diego welcomes Ryan to give it a try, so he does. What a fun little bit of serendipity! I'm tellin' y'all, the AD squad is such a fun, laid back group, totally random
blowjobs
are never out of the question haha!
So after the guys suck each other a little bit, Ryan leaves to get ready for his next on-cam adventure, and Diego has NO trouble getting to eruption point,
spraying a big, hot load
for us.
I think it's safe to say we got a great idea of how much fun this young recruit is, and some of the good times to come. We definitely need a continuation of what these guys started. A matchup between Diego and Ryan would be extremely hot, so let's keep out an eagle eye for that. What an amazing debut from a rookie cadet DRIPPING with warm, sticky promise!