Drew & Robby - Oral
Dink Flamingo
2013-12-29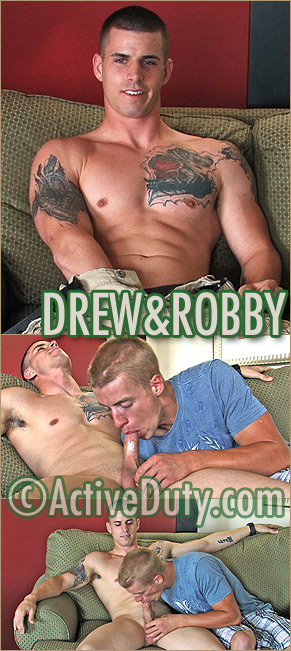 Hey Troops,
Hope you're having a great holiday season and enjoying whatever you celebrate -- Christmas, Boxing Day, National Fruitcake Day (yes, it's a thing -- really). There's even something called Pepper Pot Day, which just happens to be today, Dec. 29. (Evidently, it's a day to celebrate the spicy soup, which was first created on Dec. 29, 1777 by Christopher Ludwick, the baker general of the Continental Army. Google it. It's a pretty interesting story. See, you also *learn* stuff when you visit Active Duty! lol.)
Ok, so let's go to the update, shall we?
First, we have a new DVD for you to check out -- Ambushed! It features the very hung Dalton in his debut (with Sawyer, in a flip-flop scene), a duo scene with Andrew and Riley (who both get fucked -- Riley for the first time!) and a solo with Chip. For a limited time, this DVD is on sale for a low price -- so make sure to snap it up.
Speaking of low pricing, I want to remind you about our fantastic sale going on in our DVD store, where everything is discounted. Yes, Virginia, everything! Every single title is on sale, and members actually save MORE money. For members, all DVDs are priced at $17.47, while for non-members, they are $19.97.
As for our new scene tonight, we're doing things a little out of order. Guest director Mike sent over a new scene with a brand new fella that I think you're gonna like.
Meet Robby! Now, when the scene opens, the well-built dude is sitting on the sofa, and Mike is shooting the breeze with him, telling Robby how he keeps coming back for more solos. And today, he's going to shoot another one. (Mind you, we've yet to post a solo with Robby, so this is the first time you're seeing him.)
Mike says he's got Robby here to "rub another one out" -- for the upteenth time -- because he likes watching him and the "huge fucking loads" he shoots out. Now, if that isn't motivation, I don't know what is.
As it turns out, Robby is pals with Drew -- as in, they know one another outside of their work with Mike. Robby discovered that Drew was doing work for Mike ... but wasn't freaked out by it. So, Mike suggests to Robby that Drew could help him out today, and Robby is open to the idea. Drew then slides up next to Robby on the sofa and ... away we go!
"You like that dick?" Robby asks Drew. "Mmmhmm," Drew says as he sucks Robby. "You should taste them balls, too." And that Drew does. "How'd they taste?" Robby asks. "They're some big balls," Drew responds as he goes back to slurping down Robby's cock.
You'll have to see how things turn out on your own, but I have the feeling we'll be seeing more of Robby in the future ...
See you back here on Wednesday, the first day of 2014, for another War Chest Update!
Dink