Gabriel (Second Solo)
Dink Flamingo
2014-10-01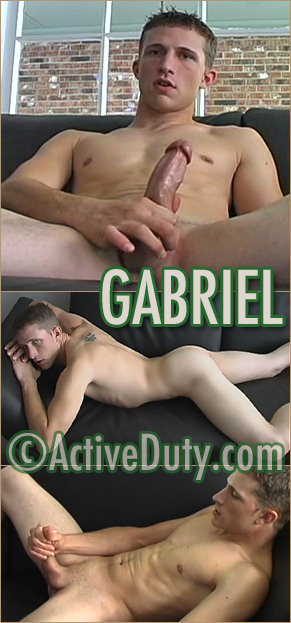 Hey Troops,
It's time for another leisurely walk through the War Chest archives, as we uncover an oldie but goodie from Gabriel. This dreamy guy with a smooth body and a winning smile is just a big pile of sexy. We shot a couple scenes with him -- two solos at least, as well as a three way with King Cole and Jimmy.
Here's a bit of what I recall about Gabriel when we first shared him with you, so many moons ago:
Angels really do fly. This Air Force fly boy is all about putting on a show for the camera as he strips to reveal a beautifully sculpted body. Gabriel is about 5'9" and 165 lbs. His blue eyes are sparkling at you as his cock grows to meet the challenge. Gabriel is married but he's willing to play around with another guy and we took advantage of that, hooking him up with King Cole and Jimmy.
Hope you like our trip down memory lane with Gabriel, and we'll see you back on Sunday for another new scene.
Dink