Hunter & Garret
Dink Flamingo
2014-09-03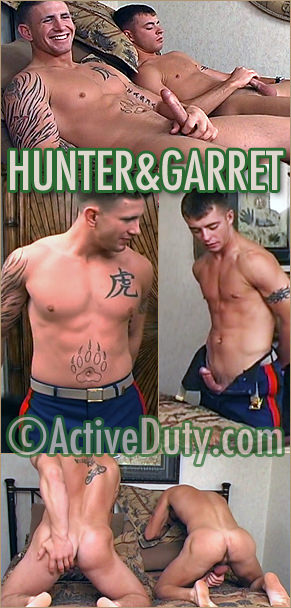 Hey Troops,
Now here is a blast from the past!
We've dug around the fabled War Chest to find a long-lost scene that's never been posted on the site: Hunter and Garret!
Now, this duo jerk-off scene dates back a million years, but it was lost from the site until today. We had previously released it on a "Friendly Fire" home video a long while back, but it's been off the market for a while. So, here we are today with two men in uniform (and out of uniform) -- Hunter and Garret.
Here is what I said about this scene way back when:
These two hot Marines -- Hunter and Garret -- came by wearing their dress blue uniforms and looking like a million bucks. I couldn't resist the chance to capture this beauty as these two buddies stripped down, put in a porno and get on the bed together to do their duty.
Hunter is such a hot example of a buff, rough and tough devil dog and his buddy Garret is a compact, tight little package that holds his own. Garret has the most beautiful blue bedroom eyes and the cutest ass while Hunter is packing the cock we all dream about and an ass that any of us would love to service.
These two get down and dirty and put on a great show for us as I laugh and joke with them. It's decided that both of them will cum all over the camera (and me) and I love every minute of it. I'm sure you will too.
And with that, I'll see you back here on Sunday for a brand new hard core scene!
Dink