Jake & Jamie
Dink Flamingo
2014-04-30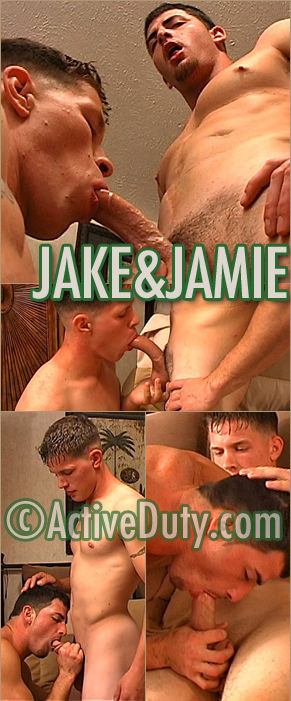 Hey Troops,
Now here is a major blast from the past!
We haven't had tonight's War Chest Update scene on the site in years. Lord only knows why. (A number of years back, we reorganized the site and a lot of scenes were taken down for whatever reason. Then, we got so busy with new content, we never got around to reposting the old scenes.) So ... here we are, with the return of Jake and Jamie (and their DVD release, Crossin' the Line!).
The description for this scene is quite long, so I'll only excerpt a small portion of it here for you. You should check out the scene yourself to read the whole shebang.
It took almost an entire evening (four hours) for the events in Jake and Jamie's scene to occur. The first part of the 90-minute-plus video is the main feature, which is followed by a lot of outtakes that help you see how the feature evolved over the course of the evening. (Yes, really, you read that right -- this video is OVER 90 minutes long.)
Shot more than 10 years ago, I had challenged our man Jake to go out and recruit new guys for us. Jamie was one of the guys that Jake found as he scouted around, looking for what he thought I'd see as the perfect guys. The only thing I forgot to tell Jake before he ventured out was that there would be a second part to the challenge. Jake figures ... 'hell how hard can it be to pass out cards and get guys to call back?'. Little did he know that was only the half of it.
After a provocative photo shoot, Jamie agrees to do a solo jerk off video. I tell Jake that he's to come in and guide him -- as a friendly face -- and then the two of them can do a double side-by-side jerk off.
Well, you can probably imagine what happened next ... one thing leads to another, and the side-by-side jerk off turns into mutual blow jobs ... and of course, I was there to capture every little detail.
Enjoy this walk down memory lane. And, for those of you that don't remember this scene the first time around, hey, it's new to you! :)
See you back here on Sunday!
Dink