James - Solo
Dink Flamingo
2014-02-05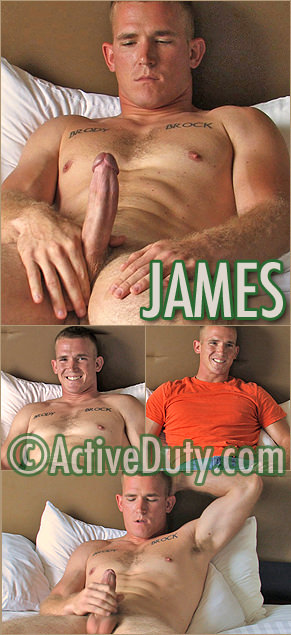 Hey Troops,
Meet new recruit James!
The super handsome fella (who I swear kind of reminds me of Ryan Reynolds if you squint a little) is 25-years old and hails from the wilds of Montana. He stands at a strapping 6'1" tall and weighs just over 200 pounds.
He was raised on a farm -- go figure! -- and he likes to hunt, fish and work with horses a lot. You can tell that he's got a naturally fit body on him -- one that seems real outdoor work and physical activity. (Though he does work out at the gym a lot.)
Guest director Mike jokes that James is a "real cowboy," and James agrees, laughing, and says "I guess you could say so!"
James says he's a little bit nervous, but that disarming smile tells me otherwise. This guy is a stunner, and I think you're gonna like him a lot.
This is the first of what I hope will be more from James -- you hear me Mike?
See you all back here on Sunday!
Dink