Jason
Dink Flamingo
2013-06-05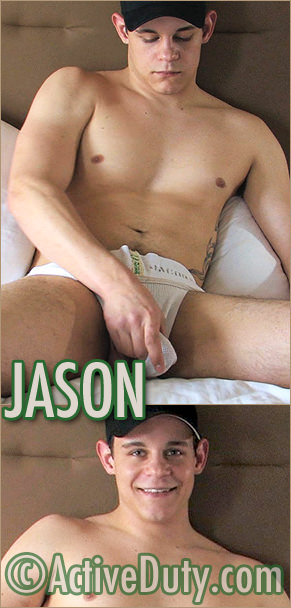 Hey Troops,
Meet Jason, a 22-year old Tennessee native, who stands 5'11" tall and weighs in at 180 lbs. He's brought to us by director Mike, and Jason is clearly pretty nervous in front of the camera. Mike tells him that he's a "good looking guy" and Jason chuckles a bit, saying he "got it from my Mom."
Jason says he's "maybe" gonna come back later in the afternoon, after this solo shoot, to see what else Mike has up his sleeve. I'm getting the feeling his return hinges on whether or not this solo turns out to be what he expected (or, perhaps, not what he expected).
Mike, as usual, says he's going to leave Jason alone for a little bit. Jason slides a hand underneath the white sheet that's covering up the lower half of his body. We see his hand go to work, soon revealing the fact that he's clad in nothing but a hefty white jock strap. All you jock lovers will appreciate this, I'm sure.
Jason slips out of the jock and starts to moan and sigh as he continues to work his thick meat. He's got big bouncing balls that hang low -- slapping against his thighs as he jerks his dick.
Jason says he decided to do this as a "spur of the moment kind of thing," and Mike seems pleased as punch that he made the choice. A sort of funny thing happens towards the end of the video, when Mike is off camera in the other room. It's one of those things that can only happen in an amateur video. You'll have to check it out for yourself to find out!
See you back here on Sunday,
Dink