Jessie - 2
Dink Flamingo
2013-07-31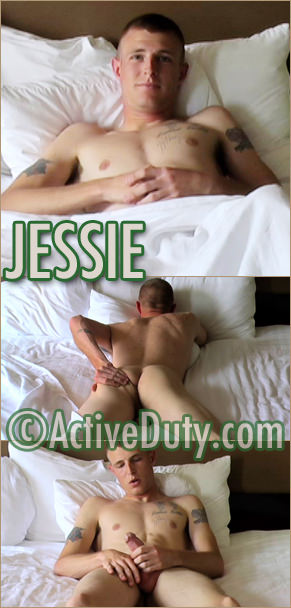 Hey Troops,
Cute new recruit Jessie returns for his second solo scene with us, directed by our pal Mike. We met Jessie a couple months ago, after Mike had been trying to lure him (er, I mean, recruit him) into a video.
The toned guy stands 5'11" tall and weighs in at a slight 145 lbs. While he's got a thin body, his ass is delightfully perfect. It's like the Goldilocks of asses, methinks. Not too small, not too big -- just right.
Jessie puts on a bit of an ass show as we get the proceedings started, letting his hands and fingers roam around his crack while Mike zooms in with his camera. Mike asks Jessie if he'd want to maybe lube up his ass and try to finger himself. Jessie quickly says no to this, and no to a bunch of other things too. lol. (Can't blame Mike for trying.)
He says no one has ever played with his ass, either! Well, dang, we need to find this boy a girlfriend that's slightly more adventurous than the ladies he's been hanging out with. All they have to do is go down south a bit and see what happens. Who knows, Jessie, you might like it!
Jessie focuses in on the matter at hand and jerks out a nice load with his good-sized cock. He's still nervous all the way through to the end, but is able to chuckle a bit with Mike afterwards.
Go check out Jessie and see how he's coming along, as Mike slowly moves him closer to that proverbial line . . .
See you back here on Sunday!
Dink