Jessie
Dink Flamingo
2013-05-01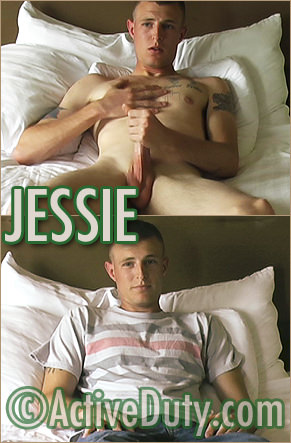 Hey Troops,
"I know you're really nervous," Mike says to new recruit Jessie as tonight's scene opens, "and you told me you don't know what in the hell you got yourself into."
"But trust me, it will not hurt. I'm gonna leave you alone as much as possible."
And with that, Mike essentially lets Jessie take it away for his debut scene with us. Think of this as an ice breaker scene -- where the new guy is just getting a feel of how all this works and what it feels like to whip it out on camera.
Mike's been trying to get Jessie to do a scene for something like six months now. So Mike must be pleased as punch that he got the 21-year old in front of his camera. Jessie stands 5'11" tall and weighs 145 lbs. He's from Tampa, Fla. and enjoys skateboarding and fishing.
As soon as Mike's gone, Jessie starts groping his dick through his pants and feeling up his abs. He slowly works his hands across his chest, sensually giving himself a little rub down, so to speak. He eventually slips out of his shirt and jeans, revealing his thin, lightly-tattooed body. His dick is still hidden under his grey boxers -- but not for long.
Soon he's jerking himself good and eventually Mike slips a hand in, going in for a little bit of help. I think Mike knows it's probably not the right idea at this point in time, so he only fondles Jessie for a brief moment before yanking his hand away and getting back behind the camera.
Even after Jessie's shot his load at the end, Mike asks, "Still nervous?" Jessie smiles, and answers, "Little bit! It's a little weird." But, he says he's "for sure" going to come back.
See you back here on Sunday!
Dink