Jimmy
Dink Flamingo
2012-06-06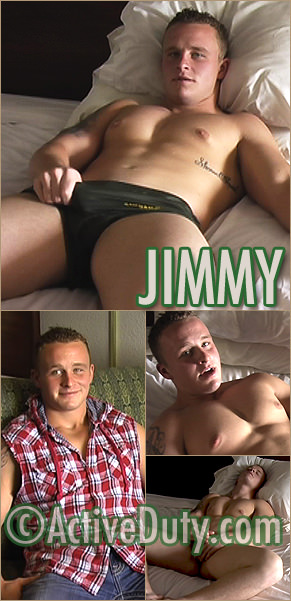 Hey Troops,
Now, on to tonight's update, where we get another fresh recruit sent in from our old pal Mike.We start off with a bang. Well, more like a ring. As Mike's phone is ringing off the hook. That doesn't stop him from chatting up Jimmy and introducing us to this studly muscle-bound guy.
We learn that Jimmy's 20-years old, has been in the Marines for two years (straight out of high school) and stands 5'10" and weighs 210 pounds.
Mike jokes with Jimmy about how he tried to film him for the past six months -- and got close once. But Jimmy chickened out at the last minute. Now Mike finally has him on his casting couch, so to speak, and Jimmy's ready to go.
Jimmy gets to it and reveals a massive body, which is an interesting pairing with his baby face. His nipples are like saucers and his thighs are the size of a house. We get a good close up look at his ass as he spreads it wide for the camera (and Mike, that devil, who encourages Jimmy to finger himself). By the time we're through, Jimmy is panting and Mike is grabbing himself a handful of Jimmy. As soon as they're finished, Jimmy says he's "ready to do it again!"
In Jimmy's second scene, we jump right into the action with Jimmy on the bed, in his green silkies. Turn out, Jimmy couldn't wait much longer -- and evidently, neither could Mike.
Mike quizzes Jimmy about if he'd be willing to let a guy suck him off. "Yeah," he says. What about Jimmy fucking him? "Yeah," again comes the reply. Of course, this is all for another scene another day, as Jimmy is here for another solo turn. So we'll have to see what Mike and Jimmy have in store for us.
Jimmy is sporting his green silkies and boy does he fill them out. So much so, that his thighs are about to bust the seams clear through! Jimmy works himself over, while Mike at one point fingers him with a pair of digits. Eventually, Jimmy gets back to the matters at hand and jerks himself off until he can't handle it anymore. He lets off a rather loud, "crazy" load (his words!) and that's wrap!
See you on Thursday in the LIVE chat room, and then back here again on Sunday!
Dink