Kasey - Solo
Dink Flamingo
2013-10-23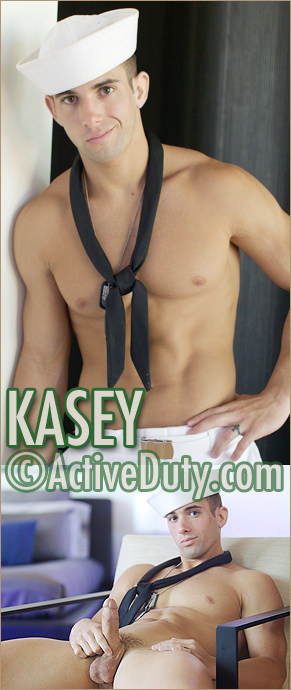 Hey Troops,
Have we got a classic for you tonight in the War Chest!
Or should I say, "klassic?"
Our old pal Kasey is showcased in tonight's very special update -- in a previously unreleased scene. Kasey is such a dreamy guy, with piercing eyes, a devilish little smirk, and a sexy bod that just won't quit.
I once said that Kasey is my perfect idea of a soldier. He's buff, extremely handsome, young and determined to please. Kasey was sometimes the quiet type, but would get loud if he needed to. He's also one of those guys that shows off all the hard work he's put into his body, by caressing and stroking his muscles (and *muscle*).
Kasey went on to do many scenes with us -- and you should peruse them on his page here on the site. It's hard to pick just one favorite (or even a couple!), so you let me know which of his scene are yours.
See you back here on Sunday!
Dink