Killer & Phoenix
Dink Flamingo
2014-11-12
0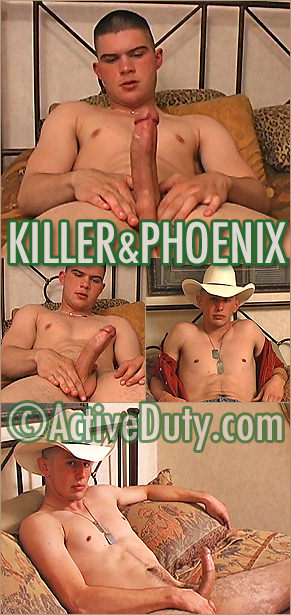 Hey Troops,

Have I got a fun find for you! And, it's a twofer!
Emerging from the War Chest this week are two classic scenes we've never released on the site to download or stream. One features
Killer
, whose name immediately makes me think: "Dick the size of a baby's arm," and
Phoenix
, which quickly brings to mind: "Yee haw!"
Killer
is just super adorable. He's got rosy cheeks, an aww-shucks smile and did I mention that he's
packing MAJOR heat in his pants
? His dick is one of those suckers that's so big, it probably drains theblood from his brain temporarily and makes him light-headed. lol. Killer puts on a great show, of course, and I'm thrilled to re-release him tothe wilds of Active Duty.
Next up is Phoenix, a cowboy with an extra-long dick, and an extra dash of country in him. (He's so serious in his scene, he never once takes off his cowboy hat.
That's dedication. Or, think of it this way: If you just love your cowboys, or, have a serious thing for Joe Cocker's "You Can Leave Your Hat On," you're in luck!) He's a pure macho man and is very serious at giving us a good show. I think you'll like the show he puts on, too!

Enjoy these two from-the-vaults scenes, and I'll see you back here on Sunday!
Dink