Kyle (III)
Dink Flamingo
2014-11-26
0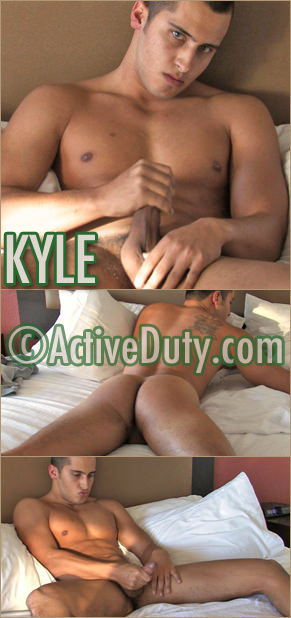 Hey Troops,

Happy early Thanksgiving! We would like to take a moment to thank you,
our fans, for your support! This is our 16th year of bringing you the
hottest real military men and we couldn't have done it without our great
fans. Tomorrow is Thanksgiving, followed by Black Friday, so we are
continuing our big sale through the weekend!

Have a Happy Thanksgiving!
And now ... time for our brand new War Chest Update!

"You're a good looking guy," guest director Mike tells Kyle, "hope that don't offend you."

"Naw," Kyle says, chuckling, as his bulging shorts distract our eyes.

Kyle is a strapping young buck that stands 6'1" tall and weighs in at a solid 180 lbs. He enjoys playing sports, especially football, and has the body to show for it.

Mike lets Kyle rub one out, and then at the tail end of the video, we get a little bit of an ass show, as he flips over and shows off his perfectly-sculpted "ass"ets.

Dink