Kyle
Dink Flamingo
2014-09-17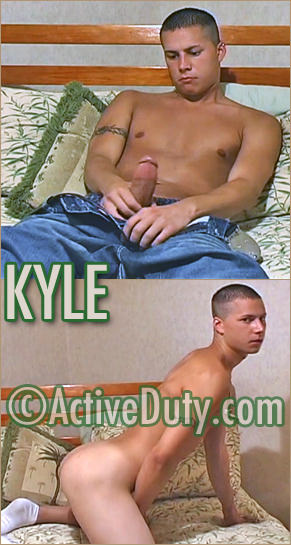 Hey Troops,
It's time for another stroll through the archives, as we present to you a long-lost scene that's been lost to the wilds of our War Chest.
Tonight we bring you Kyle, a fella with a dick the size of an arm, a smooth-and-lean body, and a smile that will charm your pants right off.
Kyle was originally found in our video release Friendly Fire 1, but for whatever reason, those scene have never been live on the Web site. So, to a great many of you, this is a totally new scene. (Though, yes, it does look very vintage. There's a certain charm in that, isn't there?)
Here's what I said about the scene way, way back when:
"This stunning beauty was sporting his tricked out ride one night and parked in a popular hang-out here in town. I eased up next to him in the Corvette and started talking to him about modeling. It took him a couple of months (a rarity) to call, but he called nonetheless. Once he did, my excitement got the best of me and I rushed him over that same day. Once he starts getting comfortable and after we've talked a little, he begins a slow strip out of his clothes to reveal a beautiful big cock. Kyle is about 6' and weighs about 175 lbs. His skin tone is perfect and his face and eyes will draw you in just long enough to prepare you for the sight of his big dick. Careful folks. This boy is the stuff that dreams are made of."
Go take a look at Kyle, and I'll see you back here on Sunday!
Dink