Lane & Scott
Dink Flamingo
2014-03-26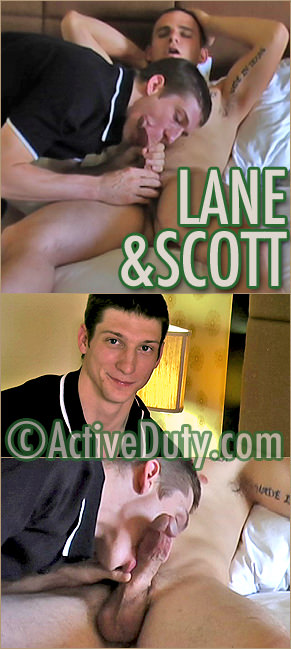 Hey Troops,
We're continuing our special combo offer where members of Active Duty also get access to Amateur Straight Guys. Normally, access to ASG costs $19.95 a month, but we're offering free access to the site until April 15. There are over 550 exclusive downloadable scenes on ASG -- so you can really get lost in there with all of the amazing content they have. Check it out!
Deep from the depths of the War Chest, here comes Lane and Scott!
Now, you've seen Lane before, way back when, when our friend Mike brought him to us. He's such an adorable guy. He stands 5'8" and weighs just 160 lbs. or so. He's got a tight little smooth body and a huge dick between his legs. We've seen him get his first blowjob from a guy (Jimmy), and that scene went pretty great.
Mike asks Lane what he thought about Jimmy and getting a blow job from a dude, and Lane says that it was "better than any female could ever do." We like answers like that. Mike tells Lane that a mystery guy is coming by in a little bit, and Mike says that he's going to blow Lane. Ever the trooper, Lane is down, and starts jerking his dick in anticipation.
About five minutes go by, and we hear the door open, and Mike say "Hey Scott," to the gentleman that walks in -- still off-camera. Mike introduces the guys, and Lane says, "What's going on Scott?" Scott: "Not a lot. How's it going?" Lane, with his dick in his hand, "You could say there's a lot going on." Ha!
Mike tells Lane that Scott's here to help him out, and about two seconds later, Scott's down on the bed, slurping Lane's fat one. I'll let you watch and see what happens, but I'll tell you this: unprompted, at the end of the scene, Lane asks -- with a smile on his face -- "When you having Scott back?" I think Lane liked what just happened... lol
P.S. You can get our new DVD release, Going Commando 2, and other titles 2-for-1 during our Spring Sale! Act now to get any of our DVDs buy 1, get 1 free! For every DVD you purchase you can get any other Active Duty DVD in our video store for free. Just list the titles of the free DVDs you are requesting on the comment line at check-out. If you have questions email [email protected] Don't delay, as the sale ends March 31st.
See you back here on Sunday!
Dink