Lane II
Dink Flamingo
2013-05-22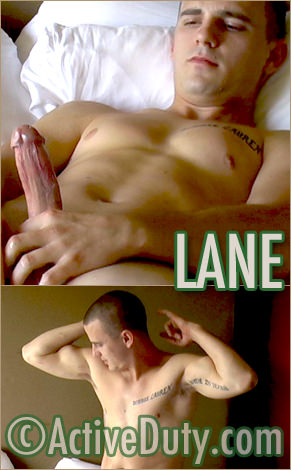 Hey Troops,
I dug up this unreleased video of Lane for you guys today, and I'm glad I did. He's such a cutie!
This was the second of two solo videos he shot with our guest director Mike, so it opens with Mike asking what Lane thought of the previous day's shoot -- which was his first solo. Lane says it "wasn't nearly as bad as I thought it would be." Mike flatters Lane by saying he's perfect for this gig, thanks to his "rockin'" body and his big fat dick.
Mike isn't lying when he says how big Lane is -- this boy is packing heat. And his body is pretty tight too. Smooth, toned and has a glow about it that makes you just think, "dang, he's got pretty skin." lol.
Mike leaves Lane alone to get to work, eventually building up to a body-shaking load. Lane's orgasm leaves him breathless! Mike gets in close with the camera, examining the damage on Lane's tummy. Mike gets in so tight with the lens, I think I can see the pores on Lane's stomach. LOL. Dang, Mike, back up a little with the hand held!
After the load, Mike has Lane give us a quick little ass and a muscle-flexing show, which is kind of hilarious, since Lane seems like a legit goofball. (But sexy goofball, mind you.)
Enjoy Lane's second video today, and come back on Sunday for another update!
Dink