Liam
Dink Flamingo
2013-11-27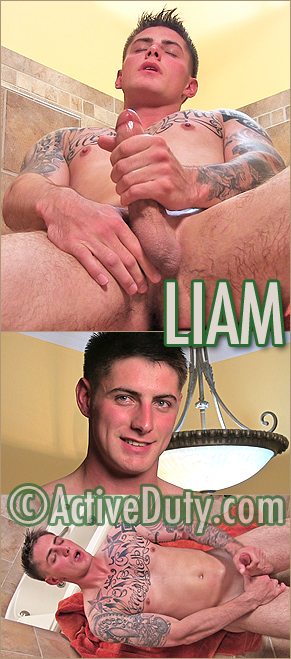 Hey Troops,
We would like to take a moment to thank you, our fans, for your support! This is our 15th year of brining you the hottest real military men and we couldn't have done it without our great fans.
Tomorrow is Thanksgiving, followed by Black Friday and Cyber Monday, so we thought it was appropriate to treat you to a great sale this week! Act now to take advantage of a limited-time sale on both our DVDs and memberships.
For the next week only, we are offering:
- $15 For All DVDs (Normally $29.95 - $39.95)
- $15 1st Month (Re-Bills 15% Off, Cancel Anytime)
Stock up on DVDs now for all of the people on your "naughty" Christmas list! If you've been thinking about joining, take advantage of our this, our best pricing ever offered! Don't wait too long, though, as the sale will be over on December 4th.
Have a Happy Thanksgiving!
And now, on to the update:
Meet Liam! He's an Army man that's 23-years old, stands 6' tall and weighs in at 180 lbs. He's got a bunch of tattoos on his chest and arms and is a total adrenaline junkie.
I struck up a friendship with Liam a number of months ago, but couldn't get him to get in front of the camera until today.
Liam enjoys motocross, wakeboarding and all sorts of action sports. I tell him that he's definitely got a face for modeling. Ain't he pretty?
I tell him that he has to leave us in awe in his debut. But you know, no pressure or anything, I tell him. After all, I've only been doing this for 15 years, so I've seen everything by this point. lol.
Liam just got off work, so he hops in the shower to get cleaned up, and I make sure to track his every move with the camera. He shows off his hairy ass for us while remaining rock hard under the water. He towels off and settles in for a nice stroke show next to the bathtub.
He's got a big log between his legs, along with some perky nipples that have probably seen some action. "Fuck yeah, you like that?" Liam says as he bats his dick around, waving it in the air towards the camera. He starts to finger himself a little bit while jerking off, whispering "Fuck yes, it feels good! You like that dick, huh?"
It isn't too long until Liam is busting his load all over the bathroom floor, sighing "fuck here it is!"
He says he's gonna come back "Anytime. Whenever you need me!" so I think we've got a team player on board!
See you back here on Sunday!
Dink