Marty and Drew
Dink Flamingo
2015-02-08
0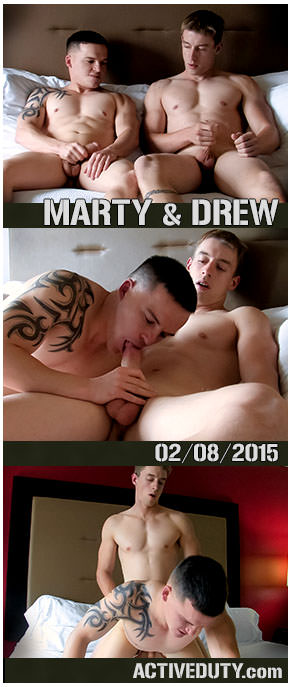 Hey Troops,
If you haven't done it yet, take some time to get reacquainted with
Drew
and
Marty
, two Active Duty veterans who are always willing to show a fellow fella a good time. Between the two of them they have
just
over
20
scenes
under
their
belts, so don't expect to see any pussyfooting from these guys, because they don't waste any time getting locked, cocked, and ready to go.
Sitting up side-by-side on the bed, Marty's the shorter of the guys by a big margin, but that just makes his powerful forearms look even more massive as he unbuttons his jeans and starts giving his dick a nice firm how-do-you-do shake. In comparison, Drew's a lot taller than Marty and has that classic clean-cut respectable look, though "respectable" kinda goes out the window when you've got yourself on camera with your dick in your hand!
Drew's matching Marty tug for tug,
and you can see each of them sneaks some peeks to see what the other is packing.
It's tough to get a good look at first, as we see just flashes of flesh poking out from behind their open flies, but soon enough the boys do us the service of dropping trow and we get to see those glorious bodies exactly as God made 'em. Drew cozies on over and gets right up next to Marty, and
it's tough for either guy to keep his eyes off the prize beside him.
You can see Marty's really starting to get worked up by the tall, hot stud beside him, but Drew's looking like he needs some extra attention, so Marty leans in and sticks his face right in Drew's junk.
Well, that definitely does the trick! Drew starts gasping and moaning as Marty bobs up and down on that shaft, and it's
really hot to see his O-face
as he gets more and more turned on by the BJ. His hand moves across Marty's backside to get to its target, Marty's tight muscular ass. Drew knows that in the end he's gonna be slamming that sexy ass, but for now he wants to sit back and enjoy the service and attention his buddy's giving him first.
Marty sucks obediently, getting Drew good and thick, until Drew decides the only respectable thing to do would be to return the favor. So Marty lies on his back and Drew mounts his face, his big ol' dong dangling in front of Marty's face as Drew sucks his cock.
What better way than a 69 to make sure that everyone's having a great time?
You can even see Marty's balls bounce up and down from sheer enjoyment.
Next, Marty gets on his back and spreads his legs for a more intense pounding. "So tight... so good," Drew moans as you see his dick thrusting in and out of Marty's stretched ass. But Drew's a grown boy who knows what he likes to make him cum. "I want you doggy-style" he says, and flips Marty back over to finish off juuuust the way he likes it. But you won't hear any complaints from me, because watching these boys go at it is just the way I like things too!