Nick II - Solo
Dink Flamingo
2013-10-30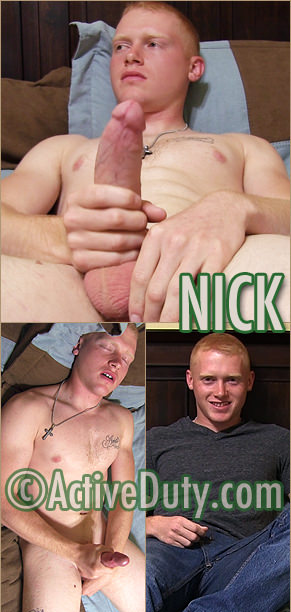 Hey Troops,
Hot ginge alert!
Kaden has found us a sizzling new red-head man named Nick, who is armed with a thick dick and a cute smile. Really, it's the perfect combination.
From behind the camera, Kaden says to Nick, "You look nervous." Nick quickly responds that, indeed, he is. "Yeah, I am, it's my first time on camera." While he says he's brought a camera "to bed," "fooling around" with a girl, he's never done anything like this before.
It's alright Nick, we love first-timers here. Have I mentioned that before?
Kaden is stunned that Nick has never jerked off to the videos he's made with girls. I suppose all that time behind the camera has worn off on Kaden, who has probably built up quite the collection of home movies, I bet.
But back to Nick! He stands 5'6" tall and weighs a slight 155 lbs. You know I like 'em short! He's got some interesting tattoos on his legs (including "Stewie" from "Family Guy") and a really colorful piece of ink on his back. We get a nice shot of his back when Kaden has him turn around and show off his ass a bit.
Nick's dick is a two-hander, and he shows off just how big it is by wrapping both hands around his shaft. Dang. You'll have to see how things end, but Nick says he'd like to come back, so we'll see what's next for our new red-headed pal.
Aside from our new scene with Nick, I also want to tell you about our new Halloween DVD sale, where ALL of our DVDs are on sale for just $19.95. That includes our brand new DVD, "Geared Up 3." Make sure to check out the sale and snap up any DVDs you're missing in your collection.
See you back here on Sunday!
Dink