Parker
Dink Flamingo
2013-02-20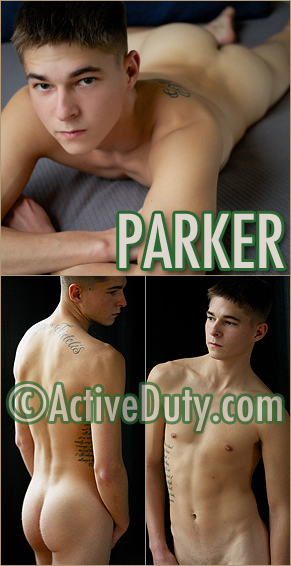 Hey Troops,
Major Wood brings us a major find in twinky 20-year old Parker, who debuts in the War Chest tonight!
It may be gloomy outside the studio where we're filming, but the very cute Parker starts things off right by saying he'll "bring the happiness" inside. Now that's the spirit!
The slight Parker hails from Georgia -- and you can hear his accent. He stands just 5'8" and weighs 130 lbs. So yes, he's definitely pocket-sized. Back in high school he says he wrestled and played baseball "a little bit." He jokes that "classes were boring" so he had to do something else.
We get Parker out of his clothes to show off his smooth, thin body. He's got such pretty skin -- it reminds me of Sawyer's gleaming complexion. Parker works his uncut dick for us, concentrating occasionally on his foreskin. While he's a little nervous, he puts on a great show, giving us a little teasing finger action around his ass as well. He eventually works up to a handsome load, which prompts Major Wood to say how Parker has a "yogurt machine" between his legs. lol.
See you back here on Sunday!
Dink