Paul B
Dink Flamingo
2013-06-12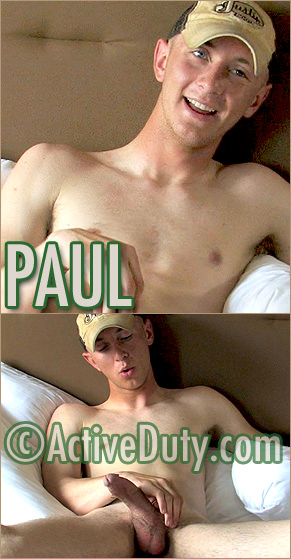 Hey Troops,
Today in the War Chest, we meet Paul. He's a country boy from Colorado who is 22-years old, stands 6'2" tall and weighs 165 lbs. He sounds real country from his accent and deep voice. Our guest director Mike asks Paul how big his dick is, and Paul says it's about 7". And, I don't think he's fibbing . . .
Mike asks Paul if this is the first time he's ever jacked off in front of a guy, and Paul says that it "sure is!" While Mike is hanging out in the room in the first part of the scene, it seems that Paul is a bit nervous and has a hard time getting things up. So, Mike excuses himself to let Paul have some privacy and then things really start to come alive -- so to speak.
Soon enough, Paul is working his thick slab of dick, wincing his face while he jacks off. He's concentrating something fierce on jerking, eventually culminating with a thumbs up to Mike, indicating he's ready to blow. Before you know it, he's slinging his load around his stomach and thighs, breathing heavy.
See you back here on Sunday!
Dink