Quinn - Solo
Dink Flamingo
2014-01-22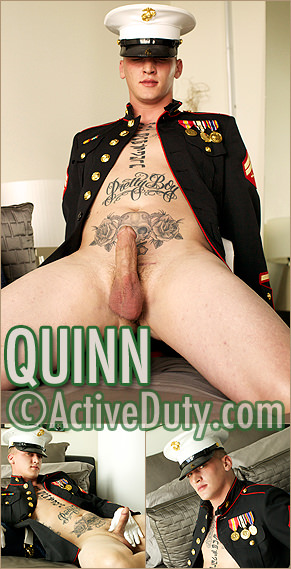 Hey Troops,
Tonight in the War Chest we have a new solo from that hunky tall drink of water, Quinn!
Now, Quinn was an old drinking buddy of mine before I got him in front of the camera. (If you go back and watch his first solo video, you can tell that neither one of us were totally ready to do the scene. lol.)
Anyhow, we moved big 6'2" Quinn along pretty fast here at Active Duty, as he then quickly moved on to a three-way scene with Dane and Jack. (And you remember how crazy Dane and Jack could be -- those two were peas in a pod with a serious wild streak.) Quinn ended up fucking Jack in the scene, and Jack finished up with a face full of cum (like I said, Jack had a wild streak...).
That said, enjoy Quinn in tonight's never-before-scene video, which should especially appeal to those that love a man in uniform.
Finally, let's not forget about our latest DVD promotion, the Winter Blues DVD Sale, where every DVD is discounted by $10. This sale will only be going on through Jan. 26, so make sure to do your shopping before it's too late!
See you back here on Sunday!
Dink