Randy & Marty
Dink Flamingo
2015-03-29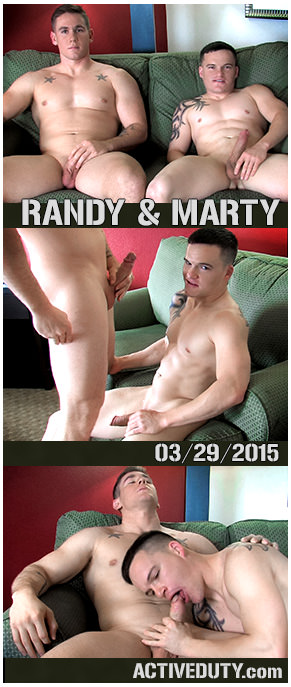 Hey Troops,
God, it's good to be back home. There's nothing like a business trip to make you miss out on some of life's everyday comforts. Now that I'm back to sleeping in my own bed again, I've managed to catch a few of the zzzz's I'd been missing out on while I was out visiting Mike, and even my regular office chair feels like a lazyboy after sitting in rental car seats for a few days. I'm still looking forward to letting you guys in on some of the finer details of what Mike and I managed to accomplish together during my stay, but I wouldn't want to promise anything that ends up falling through. Rest assured though that the gears are turning behind the scenes!
Today, though,
Randy gets serviced with a lighter touch
, as Marty bends down to give Randy's flagpole a proper salute. Randy rears his head back with moans and groans of desire as his hot cock gets worked up and down by Marty's attentive hands and mouth. Then Randy stands up to squirt a hefty load all over Marty,
who's all smiles as he gets doused with cum
. You can still see it dripping all over his chest and lap as he shakes one out himself right afterwards. Believe you me, I'd be all smiles myself if it happened to me!