Rod, in the War Chest
Dink Flamingo
2014-10-29
0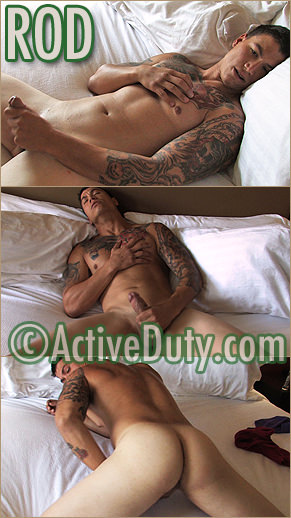 Hey Troops,
Happy early Halloween to all my ghosts and goblins out there. Hope you get a lot of tricks and treats this season!
For tonight's War Chest Update, we have a brand new recruit for you, and wow, is he something special.
Meet Rod, brought to us by our guest director pal Mike. Rod says he's a little bit nervous, and says he really didn't know what to expect because he's never really done anything like this before. Well, there's a first time for everything Rod, and I'm just happy that you've decided to take the plunge with us. (Wait until you see Rod's body, lawd have mercy...)
Rod stands at 5'11" tall and weighs in at a muscular 180-185 lbs. Mike says that Rod is here to put on a good show, and Rod sort of laughs and smiles, saying "hope so!" Mike says he's going to leave him alone, and let Rod do this thing.
Rod's got a thick dick, and he gets into putting on a good show, gyrating and and flipping over onto the bed, giving it a great work out. (His ass! You're gonna fall in love with it. I mean, him. Oh, you know what I mean!)
Check out Rod in the War Chest Update, and I'll see you back here on Sunday!
Dink