Ryan III
Dink Flamingo
2013-03-27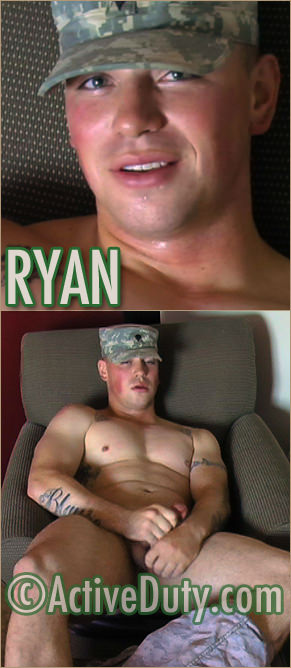 Hey Troops,
Not to confuse the hell out of you, but we've got another fella named Ryan to introduce you to tonight in the War Chest Update. Yes, yes, I know the update three days ago had another Ryan in it -- but sometimes, that's just the way things shake out here. (Hey, Ryan *is* a popular name after all . . .)
Ryan is a muscular guy with pecs the size of pumpkins and a thick dick that gets a hefty workout. He's 25-years old and stands 6' tall and weighs in at a sturdy 205 lbs. He's from Florida and has been in the service for four years and "loves" it.
Wait until you see Ryan's thighs. My god, they are as thick as tree trunks. They are as big around as the normal person's waist. Seriously, it's insanity.
Our guest director Mike doesn't waste time with Ryan, quickly getting through the introduction and letting Ryan move on to matters at hand. Ryan doesn't screw around either, quickly going to work and furiously jerking his meat.
I almost think the best part of the video comes at the end, where Mike chats up Ryan and finds out that he's interested in doing some guy-on-guy stuff. And, get this: He's interested in letting a guy blow him and fuck him (and is game to try fucking a guy) . . . but doesn't want to suck a guy's dick. Well, ain't that something?
Let's see if we can't get Ryan to do a little more with us in the future, shall we?
Until then, I'll see you on Sunday!
Dink