Sky - Solo
Dink Flamingo
2013-12-25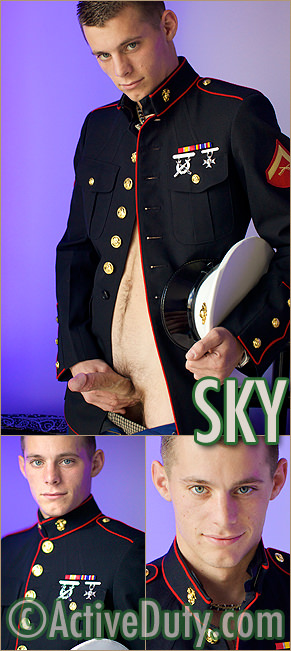 Hey Troops,
Ho, ho, ho!
Merry Christmas everyone!
As promised, we're back with our usual War Chest Update this evening. Say hello to our long lost pal Sky!
Now Sky only did two scenes for me way back when, but, we've dug up this beautiful solo video that he did for us -- that's never been released.
I'm glad that we got Sky in front of the camera for his own solo video -- and in uniform -- as he just looks really spiffy in it. He's got a cute little smile, and piercing eyes. He's also sporting a thick log of a dick too -- as I'm sure you'll notice when you take a look at him in his gallery.
Make sure you revisit Sky's two previously released scenes as well. One was a three way with Domenic and Elijah, while his first was a duo with Holden.
'Tis the season for savings as well, as our entire DVD store is also on sale. Every single title is on sale, and members actually save MORE money. For members, all DVDs are priced at $17.47, while for non-members, they are $19.97.
We shall see you back here on Sunday!
Dink